East Osceola (4156)
Trail: Greeley Ponds Trail, Mt. Osceola Trail
East Osceola (4156)
Trail: Greeley Ponds Trail, Mt. Osceola Trail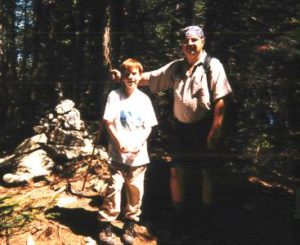 Date: July 31'ST 1999
Attending: Gabe, Simone, & John Chicoine
Miles: 5.6 total Time: 2.45Hrs up, 5hrs. Total
East Osceola (4156)
Trail: Greeley Ponds Trail, Mt. Osceola Trail
Date: July 31'ST 1999
Attending: Gabe, Simone, & John Chicoine
Miles: 5.6 total Time: 2.45Hrs up, 5hrs. Total
AMC huts, / shelters / camping site:
Weather: Sunny, Low 80's at base, cooler on the summit.
Gabe is just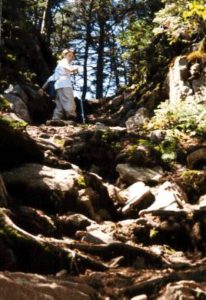 about to step out of the last steep section of this trail
What a beautiful day! This trail leaves the Kancamagus on an easy almost flat hike for the first mile then it starts a moderate stretch for the second mile and finishes very steeply the last .8-miles to the summit. The trail has lots on interesting cliffs overhanging the trail on the last leg and at times the trail is almost hand over hand. The day we were there the sun was burning the dampness off the cliffs so it had a kind of rainforest look and feel to it.
I wouldn't wish to hike this trail in bad weather, because of it's steep sections, but most of those sections are in the trees, so you never really feel over exposed, or in danger. There is one steep slide with loose rocks, but it's only 30 feet or so. Just about the time you're real tired of the steep pitch, it's over! You pop out onto a wooded ridge that kind of delivers you the rest of the way to the wooded summit. If you turn right just as you get onto the wooded ridge, (just after scrambling up an eroded gully, there is a nice lookout spot just a few feet down the trail.
We all liked this hike a lot. And although the summit is just a wooded cairn, it had pleasant feel to it. We met another older couple down from Canada that used to hike the Whites with their children and are now finishing up the rest of the 4K's that can be done as day trips. It's strange for me to thing that people from Canada are as close to the Whites for day hiking, as we are down here in central Massachusetts. We ate lunch on the summit and started our hike back to the car.
The day, like the hike was short and sweet; we were back in the car by 2:30. I suspect we'll do this one again. (Probably bringing someone up to the Whites for a short hike.) I'd choose this hike over Mt. Hale even though Mt. Hale is easier and has better views. This was our first Whites trip for our new (to us) 1993 Subaru.