"I frequently tramped eight or ten miles through the deepest snow to keep an appointment with a beech-tree, or a yellow birch, or an old acquaintance among the pines". Henry David Thoreau
Mt. Tecumseh (4003)
Trail: Tecumseh Trail
Date: October 22 1998
Attending: Gabe, Simone, & John Chicoine
+ Ralph and his daughter Alexis Chicoine
Miles: 4.8-miles Round trip Time: 5.5Hrs
AMC huts, / shelters / camping site: None
Weather: Sunny, 40'ish at base 20'ish,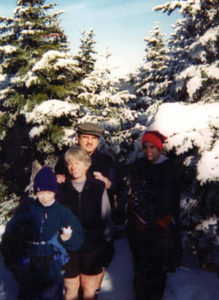 This is # 13 of the 4K hikes in 60 days since we started Aug 20'Th. WOW! You'd think we're on some kind of mission. (Not really, we just happen to like it a lot.) This is a very nice and VERY easy trail. The trail is only 2.4-miles and is easier than hiking Mount Monadnock. We started out on this trail at the WatterVille Valley Ski area, just to the right side of the first row of the parking lot. You can follow along the left side of the river for a few hundred yards, then cross the river for a long useless meander through the forest, (we never take this leg). We bushwhack to the left alongside the river until we get to the ski trail and hike up the trail to a section on the top right hand section of this trail that connects to the Tecumseh trail. It is an obvious link once you get there, because the trail has a sign on it to point hikers from the trail to the ski trail as a lookout spot. You can also connect up to the trail further up the slope to the right of the ski lift.
On this day, we has just received a dusting of snow at the base, and 7+ inches of powder by the summit last night, so we missed the river crossing blazes and learned the ski trail path by necessity. The only views on the summit were through the trees (and that was primarily because the snow was several feet deep helping us look over the tops of the tree tops.) and at two small lookout spots along the trail, but this being our first snow hike who cared! We were having fun! This a wicked cool adventure!
(It didn't hurt to think that if we somehow got into real trouble we could get to the Ski rescue in minutes!)
The day was so crisp and clear that even views through/over the treetops were spectacular.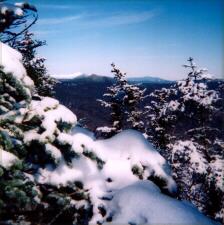 We hiked in shorts. It was wild for us to be standing on the ski slopes cooling off and sunning ourselves in shorts, while the skiers were all bundled up in their ski suits. (It really freaked them out to see us washing our feet in the snowy stream at the base of the slope, while they ran to the ski lodge to warm up.) We saw at least 20 more hikers that day, many of which mentioned following the tracks of some crazy hikers that missed the trail cutoff and hiked up the ski slopes. One of the hikers we met was celebrating his 48'th after not having hiked for the last 25 years.
Read about other Tecumseh trips: