Mt. Adams (5774ft.)
"Of all the questions which can come before this nation, short of the actual preservation of its existence in a great war, there is none which compares in importance with the great central task of leaving this land even a better land for our descendants than it is for us." Theodore Roosevelt
I would have to say that this could clearly be the motto of the Randolph Mountain Club. . . . They get it!

Trail: Lowes Path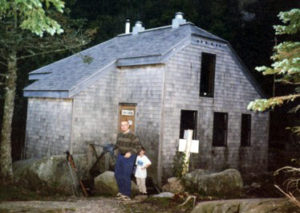 Date: Monday 8/16, 8/17 1999
Attending: Gabe, Simone, & John Chicoine
Miles: 4.1 Time: 6 hours total to summit. 4hr. 30min. to Gray Knob hut & 1hr. 20min. to summit on day 2.
AMC huts, / shelters / camping site: RMC Shelter Gray Knob
Weather: Day 1: Cloudy, 70 to 75, at the base, 50 at Gray Knob Camp.
Day 2: Cloudy with thunderstorms likely for Adams Summit wind 35 – 55 Temp 35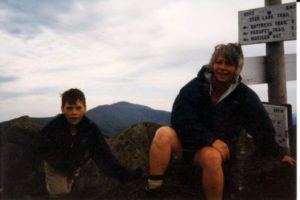 This was #23 of the 48 in our goal of having hiked ½ the 48 4K's by Aug 20. (1 year anniversary) We had hoped to bag Madison too on this trip to reach our goal. We didn't. This was a long hard climb on day 1 (only 3.2 miles, but steep, and with full gear it took us 4.5 hours). After a short rest, we tried to bag Adams on day one, but after scrambling up to Mt. Sam Adams summit, I just couldn't take another step and we had to turn back. Adams would have been a full 3hr. round trip for us from Gray Knob, so we left it for day 2. The next morning the forecast on day 2 changed from partly cloudy (no rain)/ wind 15 – 25, to T-Storms possible, wind 35 – 55. All 3 hours from Gray knob to Adams and back are above tree line and very exposed. Our caretaker wasn't willing to decide for us to go/no go for our Adams summit, but he did tell us to keep a watchful eye and get out of there A.S.A.P. if a storm blew in. He told us that the shortest route to safety/cover from Thunderstorm Junction, would be to head to Crag Camp and take the link trail from Craig Camp back to Grey Knob. This is an awesome mountain and somewhat daunting! The wind was relentless.
Gabe and I never felt very comfortable on Adams's pinnacle type peak. The wind presented itself as a steady flow from an unobstructed jet stream moving over the peak. (A power of nature that can make a person realize just how small and inconsequential he is. At times it would gust just enough to cause us to steady our footing for a moment and wait for it to pass before taking another step. From the point of the summit, the South-East slope drops steep and steady into the tree line and continues down into the base of the Great Gulf. This is one of the few places in the whites that has a summit to floor slope that drops away from the viewer. You really see and feel all 5774 feet of this mountain.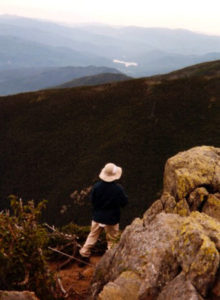 Although my original plans were to bag both Adams and Madison, Madison would have added another 2+ hours of waking to an already wind weary crew; and once we got back to Gray Knob, we would still have to carry our full packs down from the hut another 3.5 hours more to get to our car. The weather (though very daunting) was holding out in our favor; the solid gray turbulent ceiling of clouds was very high above us and we had views clear to the horizon. Once off Adams summit we could relax a bit so we decided to enjoy ourselves and take a little extra time trekking above tree line to visit Crag Camp.
You really do feel like you're strolling on top of the world up here. There weren't very many people in sight of us on this vast exposed space. We used the Spur trail .9mi. from Thunderstorm Junction to visit Knights Castle, (The teen-ager we stayed with at Gray knob helped lead the trail crew that recently reopened the Knights Castle spur.) Knights Castle out cropping (no larger than 10ft X 10ft.hangs out over King Ravine like a guardian of the cliffs. This picture of Gabe on Knights Castle doesn't do it justice; just 2 feet in front of Gabe is a drop off into the base of Kings Ravine. Crag Camp is one of the most striking huts in the Whites. Hands Down! It sits directly on the edge of the wall of King Ravine and it's porch hangs out over the cliff wall. The cabin is a very new post and beam structure with natural pine interior and a full wall of glass overlooking King Ravine.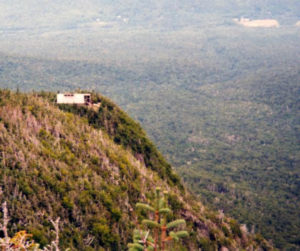 We used the Gray Knob trail .4mi. between the two camps to get back to Gray Knob hut. Both huts are new and very beautiful. (If I ever get the opportunity to build one of my sons a house, it will be a replica of Gray Knob.) (And if I get to build both of them houses, the other one will be a replica of Crag Camp.) We hope to stay there several more times @ $8.00 a night per person. These huts are as nice as any AMC huts in the Whites. We slept on the upstairs floor of the Gray knob hut on matrices. (they had about 12 of them that people could use; first come first serve.) Our caretaker told us that between the two huts, in his last two summers as a caretaker he had only turned people away once, and they only had to hike over to Crag Camp. He had his guitar with him and played Dylan tunes for a few hours that evening; Gabe was big time impressed! We shared Gray Knob with 2 wine drinking Canadians that ate like kings; They prepared a spaghetti sauce with meat and wine. They had carried up three bottles of wine, one to cook with, one to give to the care taker and one to drink that night. The next morning they cleaned themselves up like they were at a resort. They put on cologne, clean shirts and gold chain necklaces, and then the put on their backpacks. There was another teen-aged couple that was in the camp when we got there. A 17 year old boy and his girlfriend. The young man was an avid hiker, he had overseen some trail work crews during the previous summer. His father owned a wood milling business in Littleton and was a big contributor of the lumber for the RMC huts. On the trip from Gray Knob to Rt.2 down Lowes Path, we all got a bit of, "God! When will this trip ever END!" We had been hiking from 8AM to 4:30PM before we reached our car. The heat and mosquitoes along the long flat slog through damp North Country forests out to Rt. 2, were working their magic and we were all getting a bit snippety. What a long day. All in all, between the two days I believe we only walked about 11 miles, but this was a tough trip for us.