"In God's wildness lies the hope of the world – the great fresh, unblighted, unredeemed wilderness." John MuirMt. Zealand, Guyot, West Bond, Bondcliff, & Bond
(4260, 4630, 4540, 4698, 4265)
Trail: Zealand Tr., Twinway, Bondcliff
Date: May 28 & 28 1999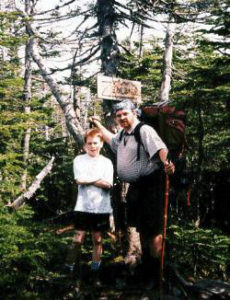 Attending: Gabe, Simone, John
Miles: Time: 2 very long days
AMC huts, / shelters / camping site: Guyot Campground
Weather: Sunny, 70ish, Very light winds.
This was our first over-night backpacking trip in the Whites. It was also our first extended hike with full backpacks. Simone's pack @ 30Lbs, Gabe's @ 15Lbs, and mine @ 35Lbs.
Day one: The trip in to Guyot campground from the Zealand Trail parking lot was app. 7 miles. The first 2 miles to the Zealand hut is a wonderful walk in the woods past scenic beaver dams, mountain streams, ponds, and marshes, with an almost unnoticeable elevation gain. There is steep 100-yard stretch up to the Zealand hut with waterfalls, and spectacular views. I can't wait to try this section as a snowshoe hike. From the hut to Zealand Mountain is a long and arduous trip with only one lookout spur along the way. It's a really nice overlook into the Pemi, facing the Willey range. The summit of Zealand is off a .1 mile spur that leads you through a narrow path to a muddy clearing who's only point of interest is a rotting old Zealand sign nailed to a tree that it's a required stop. It's ugliness mocks the effort you just invested to get there.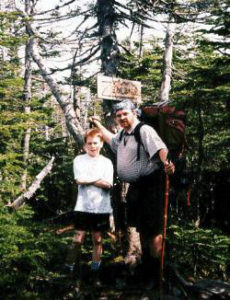 From Zealand to Guyot is a short elevation drop of several hundred feet and app. 1/2-mile long. Then a long tough stretch up 600-ft. elevation gain to a beautiful open summit, (it reminds me of Moosilauke). It's unfortunate that Guyot is not an official 4K, it is well deserving of the recognition. From Guyot summit to the Guyot Campground spur off the Bondclif trail is about .8 miles with a few hundred feet of elevation drop. The Guyot Campground spur is only .2-miles, but drops quite steeply for its duration. The campground and shelter are among the nicest in the Whites. It is my observation that this trip would be almost undoable if the fragile spring that provides water at the campground dries up, (as it sometimes does in mid summer). This was the only water source between Zealand, and the Pemigewasset wilderness. The leg of the trip from Zealand Trail parking lot to the campground took 6.5hrs., and seemed endless. The 40+ blow-downs had taken their toll. Gabe and I were quite frustrated by this point but the night with the nice group of people in the hut put us back on top of things. I cooked us up a pot of Ramen stew and we ate a few treats and settled into our sleeping bags in the hut with the rest of the people.
Day two: Sleep! Did anybody sleep? The morning comes as a reprieve from the night. We were on the trail by 8AM, we stashed our packs at the top of the Campground spur and headed over the Bondclif Trail to the West Bond Spur; A one mile round trip back and fourth. There was a bit of snow on the trail (That was cool) but nothing much to cope with. With the temps hitting the 70's this snow would soon be gone to where the snow goes. From the view from West Bond we could see the full length of the trip we had ahead of us, (and back). All that was just to be our morning's hike before we even started the long and almost overwhelming hike back to the car from the Guyot ca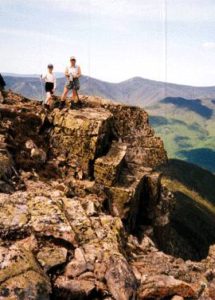 mpground.
Back on the Bondclif trail, we then headed over Bond, an easy 3/4 mile stretch up to the summit, the tallest of the three Bond summits. When we got there we met a couple that were out of water and they asked us if we had any to spare, (We didn't, "have spare water" but we did share a third of what we had. Now we headed west out over a wide knife edge sag to Bondcliff yet again another mile almost all in the open. (Nice to look at, no shade, needed lots of water, but now we were running very low). From the top of Bond it's a steep rock scramble through the crumholtz 100 yards or so, then it levels out a bit before it heads up to Bondcliff. Bondcliff is one of the most unique spots in the Whites. We were standing out on a precipice that is set in the middle of the Pemi. COOL! REALLY COOL!
This is where we met a retired couple (late 60's, just friends). She was a very experienced hiker. She made all her own ultra-light gear. She made a Tyvek floorless pup tent utilizing her hiking poles, a Tyvek tube backpack, Tyvek rain poncho, she cooked with a solid fuel Isbet tablet stove and only cooked in a 1 cup tin. She can pack for a 7 day summer hike at under 20 pounds, including food. (In contrast: we were carrying 80Lbs. between 3 people for 2 days.) She was helping her friend who had just started learning/bagging the 48 4K's. All his gear was store bought and considerably heaver.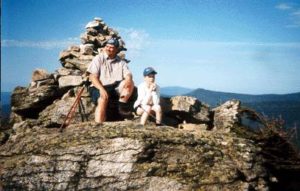 We then reversed this last leg of the trip back over Bond and back to Guyot Campground spur to pick up the packs. By this time, we were getting very thirsty,,, We had been out of water for at least the last hour, and the sun was warming things up into the 70's. We knew it, and the black flies did too. I had to make a quick trip all the awy back down to the campground to stock up on more water. We had lunch at the spur junction. (So did the black flies.) This is where our day should have ended, we had already done 5 miles and it was now 1:00. But our plans were to get out of the woods today. There was no way to contact the people at home that were expecting us to make it home. The heat, the bugs, and the blow-downs were taking their toll again. We were all getting a bit buggy. At one point I was looking for some yogurt covered pretzels and I couldn't find them in my pack. I was sure they were in Simone's pack, she was sure they weren't,,, I knew we weren't having as much fun as we had thought we would, when Simone tipped hew pack upside down and dumped the entire contents on the ground just to show me that the yogurt covered pretzels weren't in there. They weren't! We headed .6-miles over to Guyot and back-tracked the Twinway through the 40+ blow-downs over Mt. Zealand to Zealand hut. A grueling 4.2 miles. After a short stop at the bathrooms, we started the last leg of the trip. We reached our car at 8PM (a 12 hour/ 12-mile day). A total of 18 miles, and up over 8 total summits (including the backtracks) in 2 days.
My original plans were to exit out over South and North Twin. (That would have killed us!) I had a bicycle stashed in the bushes of the parking lot at the trailhead of the Twins. I was going to ride the bike back to the car and come back for Simone and Gabe. We met some hikers that had come in from the Twins and they told us that there was still a lot of snow on the north sides of South and North twin, and there were a lot of blow down going out that way. When they heard our plans they advised us against it. Thank God I came to my senses and didn't try that. We wouldn't have finished hiking until 11PM, and I would have a 10-mile bike ride to the car. It would have been a very nice plan for a three-day hike.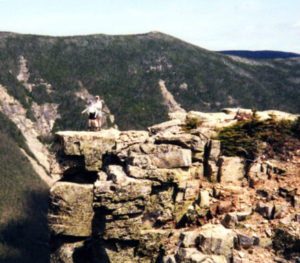 in all I'd say the trip did us more damage spiritually than physically. The false summits of Zealand, the endless length of day two and the blow-downs (so many blow downs) wore us down. Our feet were killing us. We just wanted it to end and we weren't talking about doing another one soon, if ever!
The first thing I did when we got home (After a good night's sleep) was to sit down and toss out everything I would be replacing with lighter equipment before I ever packed my pack again. Then I went through every pack and evaluated what we could do without and what was worth upgrading. Then we started planning our next backpacking trip. We may have been bruised, but we weren't beaten.