"I am always glad to touch the living rock again and dip my hand in the high mountain air." John Muir
Carter Dome, Mt. Height, South Carter, Middle Carter
(4832, 4600, 4430, 4610)

Trail: 19 Mile Brook – Carter Dome, Carter/Moriah, North Carter, lower Imp
Date: Oct. 2&3 1999
Participants: John, Simone & Gabriel Chicoine, Gary Gilchrist, Shawn White, Will Gilchrist, & Nick Paddock.
Miles: Day 1 6-miles to Dome & back to Mt. Height Time:7hrs
Miles: Day 2 7-miles from Mt. Height to Rt16
Time:7.5hrs
AMC huts, / shelters / camping site: None
Weather: 10/2 Sunny, high 60's, … 10/2 Cloudy, drizzle, rain.
The Carter Dome Trip Report By: Gabe Dude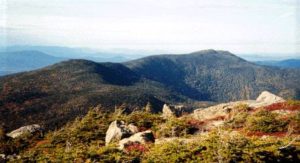 Just this Saturday and Sunday, Oct. 2 & 3, our little group hiked the Carter Dome, so I'm gonna tell you all about it. Really early Saturday morning, John, Simone, Shawn White, and I left Gardner, Massachusetts at around 5:30a.m. We made a stop at Burger King (which is a horrible place to get breakfast) in Conway, made our last bathroom stop, and then headed on to the Carters. We arrived at the Nineteen Mile Brook Trailhead at around 10:00a.m.There we met up with the other hikers at around 10:15. As we were pulling gear out of the car trunk, I saw that Shawn, who had decided to go minimalist for the hike, had a huge, nearly four foot long pack. Yikes! I'd hate to see him hiking when he's not minimalist. As we started the pretty gradual ascent, I noticed that the foliage was not the greatest this year, but the trail was still very pretty. I would recommend the first mile or so as a nice family hike. It has a lot of nice spots to swim in, since it follows a river for the first couple miles.
We then connected to the Carter Dome Trail, and hiked for a while till we reached Carter Dome. I would like to add that Carter Dome doesn't have much of a view at all. It is a treed in summit. But there are a few spots where you peer through the trees for some nice views like this one looking out over the Carter Moriah Range. Here, we are looking out over our next day's hiking trip, South, Middle and North Carter.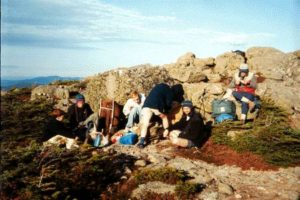 We then came back down the trail a ways until we got to where the Carter Dome Trail and another trail meet at Zeta Pass. Then we hiked over to Mount Height. Somewhere near the Summit we camped out. Just in case any park rangers are out there reading this, we camped out legally. J We had a good dinner
(but not before Gary broke out into the Spam Anthem, Gary and Will had Spam,), then headed to bed. Gary chose to sleep without any tent or tarp although we did set up Shawn's tarp in case the weather got bad. Gary was lucky that we did set up a tarp, because it did rain that night with pretty bad winds. My mother and father and I slept in a tent.
The next day we packed up, ate, and then hiked out. About a mile down the trail we said goodbye to the others who were to hike down the Carter Dome trail. We continued down Carter-Moriah trail to get South Carter and Middle Carter. By that time we were getting a pretty bad drizzle and strong winds. We then went down the long and exhausting last five miles down Imp Trail. Finally, we reached our car which Gary had moved to the other trailhead for us. The last and best stop on our journey was The Subway grinder we had for supper. J
For your info, this is our route in order:
From Route 16 take 19 Mile Brook Trail to Carter Dome trail, to the Carter-Moriah Trail via the Zeta Pass to Mt. Carter Dome. Then, the Carter- Moriah Trail back to Mt. Height cut off. Day 2 Back to Zeta Pass then, with the Carter-Moriah to South Carter and over Middle Carter. Then you come down the North Carter Trail to the Imp Trail and down to Route 16. The hike between the two parking lots is just about 1/2 mile.