Wapack Trail
(21-miles)
8 Mountains: ((2) Pack Monadnocks, Temple, Burton, Kidder. Ipswich, Pratt, Watatic,)
Date: -/-/-
Attending: Gabe, Simone, & John Chicoine
Miles: see below Time: can be done in one day, but not by me.
AMC huts, / shelters / camping site:Miller St. Park, Temple Mt. ski area, Windblown X-country Ski area

.
Index
Watatic
Sharon Cliffs
Sharon Cliffs snowshowing 01/01/01
Pratt Mountain snowshowing 01/28/00
South and North Peaks of the Pack Monadnocks
Barrett, Ipswhich, Rocky Top ledges, Pratt.
Wapack Trail 21 Miles from the base of Mount Watatic off Rt119 in Ashburnham Massachusetts, following the Wapack Range to the north side of North Pack Monadnock, on Old Mountain road in Greenfield New Hampshire. what can I say, it's a great way to stay in shape winter hiking, for those of us that only live 15 minutes south of Watatic. This trail is made up of 5 easily hike-able short sections between 2 to 6 miles long. The "Friends of the Wapack Trail" have done a great job of reviving this trail. Within the last few years it has been exceptionally well blazed for winter, and casual hikers. You can join the "Friends" for an annual 21mile, one-day trek if you're up for the challenge. There is a 95 page detailed trail guide & maps available; Wapack Trail Guide, by John E. Flanders, that is worth the investment, if you're going to spend some time hiking the trail regularly. Here's the skinny of the 5 sections: (from the Map included in the Wapack Trail Guide.)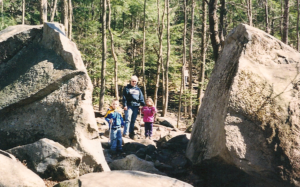 (1.) Ma. 119 to Binney Hill Rd. 3.5Mi.
(2.) Binney Hill Rd. to NH 123-124 Crossing 5.6Mi.
(3.) NH 123-124 crossing to Nashua Rd. 2.2Mi. (Plus a 2Mi. Round trip leg to Kidder Mt.)
(4.) Nashua Rd. to NH 101 4.7Mi.
(5.) NH 101 to Old Mountain Rd. 5.4Mi.
Mt. Watatic    The 119 section around Mt. Watatic has a nice 3+ mile loop up the Wapack trail to Watatic summit, connecting to the Midstate trail, and back to the Rt. 119 parking lot. It's a nice winter afternoon hike after church. It's also a really cool trip for first time hikers, and kids. I bring a troop of 9, 10, & 11 year-olds out for this loop every year. Not part of the Wapack trail, but one of the most hiked trails up Mt. Watatic is an old trail under the old power lines, (no-longer there). This is a quick 1/2 mile rock scramble, straight up the side of Watatic. This trail is located 3/4 of a mile east of the Wapack trail on Rt. 119. There is obvious parking for 10+ cars, the trailhead is obvious, but not marked. index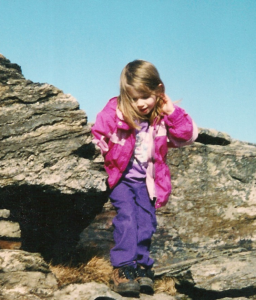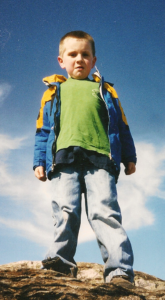 Wapack Trail Trip report 12/31/00
Trail: Watatic power lines
Mountains: Watatic
Attendance: John & Simone
Distance: 2 miles total.
Weather: Sunny, 30's, windy, and 14 inches of new powder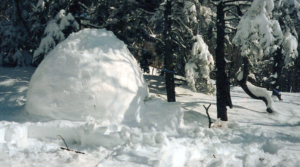 The last day of the year, and that's more than enough excuse for a hike. Add to that 14inches of fresh powder, and a new pair of MSR's Denali's to try out, and there just wasn't any way I'd be anywhere else. I wanted to give the new MSR's a serious test, and the steep rock slide up the side of Watatic was just the place. They seemed to slip just a bit more than Simone's Atlas's, but not much more. I liked the way the MSR's track, and they are much lighter, and easier to handle than my 36inch Tubbs. I don't think I would have had the steam to make it to the top with my Tubbs, (even if they might have done a better job of it.) The summit had a couple of snow-mobiles leaving just as we got there, and the wind was a bit stiff, but it was nice as always to be there. No snowshoe would do well going down this trail, so we decided to bush whack, traversing the hillside; The MSR's did this very well. (we found a dear bed on the hill side.) I noticed that with the extensions on, if I leaned back, I could do a controlled ski for a few feet of the steep sections. (like glissading). We hitched back up with the Power lines trail just at the tail-end of the steep section, and the MSR's did as well as Simone's Atlas's. Then I did the neatest thing, I took off the extensions as soon as they weren't needed. Just the idea of not having any unnecessary weight on my feet is cool! index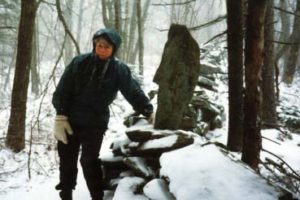 Sharon ClifsOne of my most pleasant winter hikes was during a 1998 snowstorm, hiking the stretch between Nashua Rd. and NH 101. The Sharon Cliffs stretch. Visibility was just a few hundred feet. We didn't hike through, but turned around at Holt peak. A fresh coat to new falling power was silently covering our tracks within minutes of our passing, and by the time we turned back from Holt point, our tracks were totally gone. Normally this might have been a scary situation, but not on the Wapack. We felt safe, and at peace. Three inches of fresh snow had fallen in less than three hours. We've done this stretch other times, and it is just as pleasant every time, rain, sun, or snow. Without giving too much away, there is a must see, modern day stone-henge between the Nashua Rd. and Rt. 101 leg of the trail. You'll love it………… We've hiked this with another couple, spotting cars on each end. A fantastic winter hike with great views from numerous clearings along the ridge. The trail crosses the summit of the Temple Mountain Ski area, and on a busy ski day you have to share the slopes with the skiers. The people at Temple are the best. After the hike, stop in at the lodge and buy some hot food. index
Wapack Trail Trip report 01/01/01
Trail: Sharon Clifs
Mountains:
Attendance: John, Simone & Gabe
Distance: 3 miles total.
Weather: Sunny, 30's, and 14 inches of new powder
What a great day for snowshoeing. The trail had been packed in by a few hikers before we got there. We didn't mind, because we weren't planning to spend much time on the trail, and we didn't. As soon as we reached the cliffs we branched off on a wonderful bush whack all along the length of the cliffs. We followed the tracks of what we believe was a quite adventurous fox. His tracks travelled as close to the ledges as possible for man or beast. At some points, even standing out over the cliffs to search the valley below. He marked his territory all along the edges of the Sharon cliffs, cool territory! This was my second snow shoe trip on the new MSR Denali's. I like em! Nice and light! Even with the extensions on. I love the feature of removing the extensions when ever they aren't needed. This is worth it's weight in gold for me. My 36″ Tubbs may be a superior product, but I just haven't got the strength or stamina to handle steep, and long stretches of breaking trail in them. With the MSR's I'm more than willing to give up on some quality, for the weight difference. I'll do far more with the MSR's than I would ever with the Tubbs, if only because I'll be wearing them more because the experience is so much more fun with the MSR's.
Pratt Mountain    Binny Hill Road to Pratt Mountain, (1817ft.) Saturday, January 28, 2000 12:00.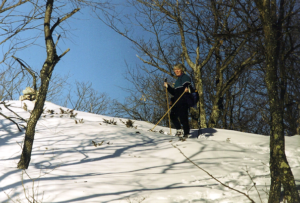 Simone and I hit the trail a bit late, but we were only expecting a short afternoon snowshoe trip up Pratt. The dirt section of Binny Hill road after the last house is not plowed in the winter, so we had to hike a 1/2 mile to where the Wapack trail branches right into the woods towards Pratt Mountain. The road was easy hiking because it's very well traveled by snowmobiles and 4 Wheel drive vehicles. Most of this section of the Wapack presents very little elevation gain, but once you reach the base of Pratt the 800ft of elevation is covered in a 1/4 mile. The hiking is typical Wapack woods trails, past swamps, and beautiful woodlots. On this day we just happened to be the first to break trail up Pratt. The snow was pure powder averaging 12in. through out, with drifts up to twice that. There is something to be said for breaking virgin snow to a summit, even if it's only 1817ft. The sky was memorably deep blue, and the views east to Boston, and west to Mt. Mondanock were wonderful. This was our first time out this season on the snowshoes. The four-mile round trip was about all we could have done for our first hike out. We met a tele mark skier hiking up the steep sections of Pratt that we had just blazed, and another snowshoe hiker just a few hundred feet from the trailhead. We got back to the car at 4:00, it was a welcome site. Our legs were beat. Our trip on this day was about 4 miles round trip, but in the summer if you drive up Binny Hill road to the Wapack Trail this will cut the round trip down to 3 miles.
index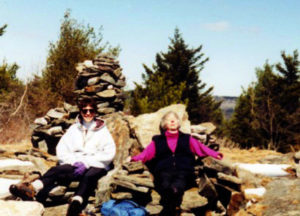 South and North Pack Monadnocks
Another highly recommended hike is the stretch between Miller State Park NH101, over South and North Pack Monadnock to Old Mountain Rd. If you can't spot a car, a hike from Miller State Park, to North Pack, and back is a nice 6+mile trip. Or from Old Mountain Rd. to South Pack (6+miles). If your looking for a quick jump, just doing the stretch from Old Mountain Rd. to North Pack (3-mile round trip) won't eat up more than 2.5 hrs. An added bonus to these hikes are their proximity to the Peterborough EMS headquarters. The hikes are short enough to leave time for a quick check in the returns/closeout room.
At the Rt. 123/124 crossing is The Windblown Cross-Country Ski Area that is shares part of the Watatic Trail. There is a cabin in this section that I understand can be rented for a modest fee. It might be worth checking into for small group winter camping. It sounds like a great place to take a scouting troop.
Notice how many pictures have lunchtime in them.
….1/2 of Dawn and Scott, or,… "I can't believe I can look so good after having just fallen on my butt!"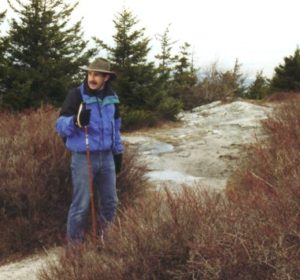 Ipswitch Mtn. Wapack Trail Trip report 8/22/00
Trail: Rt124 (by Windblown X-country ski area) south, to Pratt Mtn.
Mountains: Barrett, Ipswhich, Rocky Top ledges, Pratt.
Attendance: John & Simone.
Distance: 5.8 miles each way 11.6-miles total.
Weather: Hot (85'ish) dry, and sunny. The trailhead is about 100yards east of the Windblown Ski area, on a posted private drive called "Watatic Rd." The sign to the trailhead is about 100 ft. off of Rt.124. There is a wide shoulder to park on, (don't park on Watatic Rd.). The trail starts out as part of the Windblown Ski area trails. At times the many intersections of X-country ski and snowshoe trails make it confusing as to which trail to follow, but to the credit of "Friends of the Wapack" they have taken much care to keep you on trail; there are plenty of signs and blazes. In that section, if you don't see a blaze every few moments, you may be off the trail. For that matter, the Wapack Trail is one of the best blazed trails I've hiked. Within the first 15 minutes you hike up to a view spot that lets you check out the entire ridge to Pratt Mtn., and a nice preview of the views available all along the hike. We had sun and dappled shade on our woods hike, and enjoyed the lush green fern covered forest floor along the trailsides.index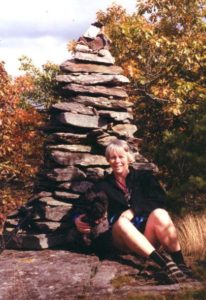 Barrett Mtn. is the first "big hill" to summit. The top is wooded, and is the ramp up to the ridge you'll be on for the rest of the day's hike. There is a spring along the side of Barrett that was the only source of water. (I have no idea how reliable this spring is). This proved to be critical for us because we weren't expecting the high temps, and we only packed a liter &1/2. We began to ration fluid on the return leg of the trail, knowing we wouldn't find water until we got back to this point. By the time we did replenish our water, we were definitely in need. From he summit of Barrett, the trail does a lot of ups, and downs through a wide forest path, until it reaches the summit of Ipswhich Mtn. The path was wide enough for an ATV to travel. (We saw ATV tracks.) The trail map lists a lower and higher peak of Ipswhich.
The trail from Ipswhich to Pratt begins to be less traveled, but is the best section of the ridge. It too has a lot of ups and downs, but at most of the ups, you'll find nice open ledges and lots of spectacular views of Mount Monadnock. The trail follows a peak of ledges called Rocky Top, just before you reach Pratt Mtn. Pratt is a fun peak that makes a great winter hike from Binny Hill road. We spent a well-deserved nap in a thick patch grass under the shade of pine tree. index