We're going hike the Connecticut section in two separate hikes.
Connecticut AT section hike(s).
Miles: 54 total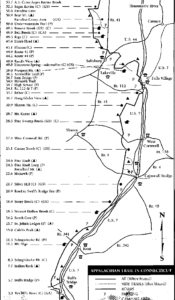 ---

Hike # 1   ……..      Sages Ravine/Rt41    to    Falls Village/US7
Miles   ………….     17
Attending   …..     Gary Gilchrest, Shawn White, Simone, Gabe & John Chicoine
     We began this trek at 4:00PM on a moderately hot Monday afternoon; July, 1'st 2003. Gary and Shawn had previously hiked from Sages Ravine over Bear Mountain down Under Mountain Trail to Rt 41. This gave us an opportunity to take advantage of a unique situation. Our approach began with a split team; Gary and Shawn located the cars at the necessary parking spots and Simone, Gabe, and I would make the required trek across Paradise Trail to the Massachusetts border, then we would head south into Connecticut on the AT. This would give us an extra hour to complete the extra mileage that Gary and Shawn didn't need. We would meet up with Gary and Shawn at one of the campsites a few miles south of Bear Mountain on the AT.
What a wonderful treat we were greeted with. Paradise Trail was in full bloom with Mountain Laurel blossoms. The trail was surrounded with more white than green. For the first time ever while hiking on the trail, we got a glimpse of a deer! He was eating the tender shoots by the side of a highland marsh. This truely was Paradise. Bear Mountain is a fabulous peak, as fine as any in New England. (We were soon to figure out that all of the AT in Connecticut is as enjoyable to hike as it beautiful.) WE LOVE Connecticut! The trails are very well maintained. 95% of the woodlands are populated with deciduous trees so even in the thick of the forest, the woods are open with very little low lying vegetation. The Connecticut forests are a pleasure to spend time in. When we weren't surrounded by the dappled sunlight filtering down through the lush green treetop cover, we were being blessed with open ridges and grassy fields. Our next pleasant surprise would be the campsites in Connecticut. The Maintenance crews keep the campsites very clean and have managed to place them in locations that encourage you to linger. After meeting up with Gary and Shawn at the very nice Brassie Brook Campsite, we ventured on to Riga Campsite for the night. (7miles for Gabe, Simone and I in 4 hours.) WHAT A NICE PLACE!!! The cabin sits on an open ledge facing east overlooking Connecticut. We could have spent an entire day there. (I think when I die, I'm going to ask in my will that my ashes scattered over a few select locations that just felt like home to me. Gabe! Save a few spoons full for this spot.) Actually I'll be dead so it won't really matter if they dump my ashes in the garden, I just want whomever survives me to spend a few moments in some very beautiful locations remembering me and making some new memories of their own.
Day 2.
We planned for the July heat and humidity so we scheduled short mileages for each day. On Tuesday after lingering in the cabin at Riga for a little while, we hit the trail by 9AM. Within a short time we came to Lion's head peak, another fantastic photo spot. (It's no wonder this is Connecticut's most hiked peak.) Not for its spectacular views or incredible height, but for its subtle sense of peace and serenity surrounded by simple beauty. On the east ledge of Lions head we stopped to plot out the path of the AT as it snakes eastward toward the Housatonic River. We stayed to enjoy the rare and awesome view of a Turkey Buzzard from our vantage point above the bird as it was circling in the thermals over the Connecticut farmlands. Someone mentioned that a Turkey Buzzard will find dead meat buried in a field. It can smell the meat and track it down from miles away. We stopped just after crossing Rt. 44 to rest for a moment before the steep climb up to Billy's view. Another site that beckons a hiker (at least one fortunate enough to listen) to sit and enjoy Connecticut. I feel sorry for the many Through Hikers that have far too many miles to bag each day to enjoy a lingering frivolity and experience the simple pleasures of the trail. Speaking of simple pleasures, Giant's Thumb is undoubtedly a wicked cool anomaly. It's a giant Limestone thumb sticking up about 10ft. tall in the middle of the forest! How Cool Is That! Just another short distance more and we reached Rands view. A vista that reaches from the edge of a huge hay field all the way to Mt, Greylock. We spent the night in Lime-Stone Campground; A nice campground but access to the site is down a ½mile leg of trail that drops "steeply" several hundred feet of elevation to a mosquito infested floor. (Watch your water filters with this very clear stream. There must be some limestone that you can't see with the naked eye in the water because Shawn's and my filters plugged up after filtering here. (My Pur Guide filter was NEW for this trip.) (8miles)
Day 3.
Gary decided to break camp early enough to watch the sun rise from Rand's View. He got an added bonus of sighting of a large owl. The rest of us followed a bit later (8AM). The hike out of Lime Rock Campground was a little bit if a hump, but the rest of the day's hike would be easy. Prospect Mountain was mostly viewless but the forest is so sparse that it feels like you have a view. The hike down to the Housatonic was uneventful. From the river to where the car was parked at Rt7 was a lot of hot open road hiking with some of the trail sharing a local walking path along the Housatonic. We reached the car by 1PM and none too soon. Hiking in the open sun was beginning to steam things up. The trek was done; we all dropped our packs at the car. (Grateful for air conditioning.) (6miles)
Note! Standard Operating Procedure Rule # 1. When spotting two cars, never leave the keys to the car located at the end of the trip in the car parked at the beginning of the trip. Simone packed the spare key in her pack!