Easter Message: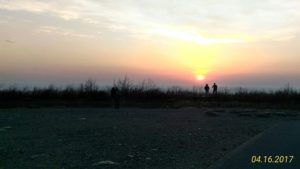 Success or Significance.
Success is what happens to you,
Significance is what happens through you.
Jesus could have easily moved onto the religious scene of his time like no other religious figure, before or after him. He would have been the greatest evangelistic preacher known to man; just a personal invitation to follow Him and men dropped their nets and never looked back. His church would have been the fastest that growing church in the history of man. Who wouldn't attend a church where the preacher taught messages like the Sermon on the Mount or the Beatitudes? Can you even begin to imaging how well attended his healing services would be. Bring the man a fish and not only would he feed the entire Church; he'd pull a gold coin out if it's mouth for you. His books like, "The Purpose Driven Life" "Effective Prayer", and "Inspiring Short Stories" would have been the most popular books of all time. His "Water into Wine" winery would have been the eighth wonder of the world. There is no doubt that Jesus could have turned the business end of the religion industry into the greatest success story ever! NO WAY could they ever have gotten away with crucifying the pastor of a popular World Wide church that was growing by thousands of member's very week! The good news of Jesus Christ would have reached every corner of the known world.
But instead of the greatest success story known to man…. We have scriptures like this:
" Matthew 16: Jesus[j] began to tell his disciples plainly that it was necessary for him to go to Jerusalem, and that he would suffer many terrible things at the hands of the elders, leading priests, and the teachers of religious law. He would be killed, but on the third day he would be raised from the dead.
Then Jesus said to his disciples, "If any of you wants to be my follower, you must give up your own way, take up your cross, and follow me. 25 If you try to hang on to your life, you will lose it. But if you give up your life for my sake, you will save it. "
On this special day when we come together to celebrate the Resurrection of our Lord and Savior, I pray; let us not lose track of God's true calling upon the Saints before that blessed day when we stand beside Him in heaven.
Success is what happens to you,
Significance is what happens through you.
Jesus never accumulated riches on the earth. He died without any clothes, in hunger, thirst, shame and derision. Yet through these very cruelties, Jesus lived and died to make us rich. He purchased the citizenship of heaven for us through the forgiveness of our sins. He stepped aside that we might have His holy Spirit dewll within us. Without a doubt! Jesus is the epitome of significance. He was the most significant human being who ever lived on the planet. He is still the most significant person alive today!
I don't for a moment want to imply that wealth and God's good blessings are wrong, Scripture tells us that God gives us the power to make wealth, and that he delights in the prosperity of his servants (Psalm 35:27)—which includes material prosperity (Deuteronomy 28:11-13). So it is clear that wealth is not necessarily evil. What we must understand is that the blessings of God are just that, A GIFT FROM GOD! And to whom much is given, Much is expected. Out of our abundance, abundance must flow.
(Let us compare the models of Success as we understand them in the Western Civilizations, and the model of Significance as displayed by our Lord.)
Success: Requires constant dedication to the goal of achieving, (Often achieving "more"…
More from which to build upon: More than the others: More effort, more dedication, more resources, More, More, More.
Significance: Requires constant dedication to the focused goal of achieving. (Being Significant does not happen by accident. It's an intentional effort to spend your own value, to add value to another person.)
Success: Requires Timing, (As in fast passed, high stress, in the moment reactions, and a disconnection to the impact on other people.)
Significance: Requires Time, (Time to build relationships, trust, understanding, compassion, Love and Mercy.) Jesus suffered every trial, and every struggle known to each of us and He relates to us in the midst of our needs.
Success: Requires "The Art of the Deal" mentality.
Significance: Requires the "Art of the Heart"; It requires that you lead with your humanity. Jesus was fully God, and fully man.
Success: Requires impacting large numbers of people either directly or indirectly.
Significance: Requires impacting one life at a time, individually and directly. Over and over we see Jesus dealing one on one with every kind of person.
Success: Requires the focus of your time, your resources, and your talent on the primary beneficiary: YOU!
Significance: Requires the focus of your time, your resources, and your talent on the primary beneficiary: Someone else!
Success: Is measured by your tangible value compared against other people's success or failure.
Significance: Is measured directly by the positive impact upon other people's lives.
Success: Is seldom ever fully satisfying, or satisfied with how much it has.
Significance: Fosters an unquenchable joy and satisfaction of the overflowing of the rivers of life and the flow of the Holy Spirit.
Success: Occupies your life.
Significance: Gives you Life.
Success: Is fleeting: Here today, gone tomorrow. Nothing we earn of the world, passes ever into the next.
Significance: Is an everlasting eternal reward that can never be burnt up in the judgment fires of our God..
Success: will cost you your resources, and if properly invested, will richly bless you here in life
As we see with Jesus:
Significance: will cost you your life and if properly invested, will richly bless you for all eternity.
So what does all of this have to do with Easter?
We came here this morning to celebrate the life and resurrection of our Lord Christ Jesus. He is Alive this morning, and he speaks us today just as he spoke to his disciples 2000 years ago:
"If any of you wants to be my follower, you must give up your own way, take up your cross, and follow me. 25 If you try to hang on to your life, you will lose it. But if you give up your life for my sake, you will save it. "