"The Wilderness holds answers to questions man has not yet learned how to ask." Nancy Newhall
Mt. Galehead (4024)
Trail: Gailhead River trail off Gale River fire rd. (closes in winter), Frost Trail.
Date: October 19, 1998
Attending: Paul, Matt and Nicole LeBlanc, Gabe, Simone, & John Chicoine
Miles: 10.2-miles Time: 7.5 Hrs.
AMC huts, / shelters / camping site: Gailhead hut (it was closed for the season)
Weather: Partly sunny, Overcast (very high ceiling) 60'ish,
Our first hike with Paul and his family. The whole family was supposed to come along, but Sarah was sick so Joanne stayed home with her. Can these guys hike! We hustled our butts off this day. These guys are on a mission. I don't think they hardly take the time to look up. We hit the trail at 9:00 and finished by 4:30. Ten miles. The first 2.5 miles is just a flat hike along the Gale River valley. The next section of the hike is a well-maintained gradual (slightly more than moderate climb up to Galehead hut.) We really liked the trail. It's a lot like Edmonds path up Mt. Eisenhowser. From the hut, it's another .5 miles on Frost Trail to Galehead's wooded summit spot. (a clearing barely big enough to fit the six of us for a picture). We had lunch on the porch of the Galehead hut, (I forgot our lunch food) (AMATURE), but we had lots of snacks and Paul had packed food for five so he had plenty of extra.
From the porch of the Gailhead hut, the views of the Twin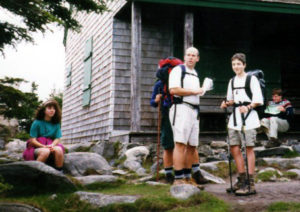 Mountains were great, but the autumn leaves were all but gone. The hills were gray and sullen, as they waited for the cold of winter to fall upon them. We used the same trail back to get to the car. Simone and I couldn't keep up with Paul and his clan. We tried, but we were hustling and stumbling along just trying to keep up. Simone slipped knee deep into the river at one of the crossings. It was a blessing in disguise because her toes were just starting to cramp up and the cold water dunking stopped the pain. The last mile or so seemed to go on forever. We were real glad to see the car. Something tells me that we may never be invited to hike with Paul like this again. We loved the company, (sometimes it makes all the difference in the world to have someone else with us on our hike), but I just don't think we're a match. Not that there was anything wrong with the hike, or the day. We're just too slow,,,, We don't mind that we're slow. We like it that way. We couldn't change that if we tried. Note! The AMC rebuilt the hut the next year after we visited it; it wasn't open when we were there, so we never saw what it was like inside, but the outside didn't look all that bad. I guess we'll have to hike it again just to see the new hut.