"And forget not that the earth delights to feel your bare feet and the winds long to play with your hair."
Kahlil Gibran
Mt. Garfield (4500)
Trail: Garfield Trail, off Gail River Rd.
Date: Nov. 5 1999
Attending: Gabe, Simone, & John Chicoine
Miles:9.5 Round trip Time: 3.5 hrs up, 6.5 hrs. Total
AMC huts, / shelters / camping site:
Weather: Temps in the 60's, On the Summit the wind was too! (60Mph).
This is mountain # 30, in just 14 months and a few days. I didn't think we'd bag another 4K this year but the weather has been exceptionally warm this late in the season. September and early October had far more snow than late October. Almost all the snow was gone from the warm weather. This trail is definitely going to be a repeater. Although it is 10 miles, it is not particularly difficult at any time and it does move along quite fast. At this time of the season there were lots of leaf covered muddy sections between the 2 and 3-mile stretch. We removed about 7 small blow downs, (one of which required a full family effort to drag it off the trail), leaving only one tree that still would cause someone to have to step off the trail. (It has been quite windy this fall up here.) As was reported on the internet a few days before we hiked this, the top 1/4 mile was quite icy and there was a dusting of snow to make things a bit slicker, but we made it through on bare boots and our buts at times. The summit of Garfield surprised us, we weren't expecting it so soon, we turned a corner through the trees and there we were on the summit. We could here the "mighty rushing wind" for the last 1/2 hour up o the summit, but had no idea of it's ferocity until we reached the open summit. This is one of the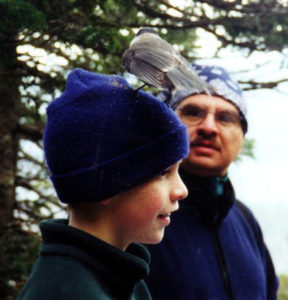 few hikes in the Whites that we didn't see another car in the parking lot, and we never saw any other hikers.
We will have to remember to bring extra food for the Gray Jays on our next Garfield hike. They were more persistent than we've ever seen them. We had them eating off Gabe's head. They ate most of our Fig-Newtons. One even followed us for about a mile down the trail and as we reached his cut off point, he squawked at us to stop and feed him some more, We did. We love this mountain. It was clear, cold, and windy. Very windy! At one point while firmly grasping one of the re-bar posts on the foundation of the old fire lookout on the summit, I had to grab Gabe and hold him down, to keep from having him blown away, I estimate gusts exceeded 65Mph. It just doesn't get any better than this.