Hancocks (North and South) (4420, 4319)
Trail: Hancock Notch, Cedar Brook, to Hancock Loop.
Date: Saturday 8/12 2000
Attending: Gabe, Simone, John Chicoine, & Gary Gilchrest
Miles: 10 Time: 7 hours total.
AMC huts, / shelters / camping site:
Weather: Partly cloudy, 70 to 75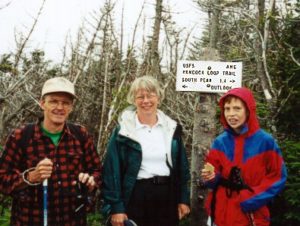 This was #35 & #36 of the 48, just 1 week before our second anniversary of our 4K-peak bagging obsession. We were all quite a bit apprehensive at the prospect hiking this set of mountains. It had been 10 month's since Gary's last 4K, and at least 6 weeks since ours. A ten mile loop, with two mountains bearing the phrase "un-relieving" as the AMC guide book described the last 1/2; mile to either summit, after a 2.5 mile easy to moderate approach. Terms like loose scree, steep, and 5 dangerous water crossings at high water (this has been one of the wettest summers in recent history), and last night was a deluge. I slept very little the night before; Were we up for the mileage? How bad was the heavy rain outside my bedroom window effecting those many river crossings, would the knees hold up?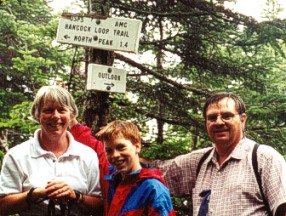 The truth of this trail is that it may just be a bit over vilified in the AMC guide book. Not to take anything away from the effort it takes to bag these peaks, (a lot). But I compare the effort to any other 10 mile trek, like the Lafayette/Lincoln Franconia loop. The Hancock Notch trail is a very easy/flat walk on a well-trodden dirt path. Most of the Cedar Brook trail is the same. The trails have very little bolder hopping. Because of this they are prone to muddy sections. The upper sections of the Cedar brook trail are only moderately steep. The Hancock loop trail begins the only real steep hiking. Either approaches, north or south are almost identical in terrain, length, and difficulty. I recommend using the north approach to summit the pair. Having invested the effort the rest of the sag between North and South peaks is almost all down hill and from South peak it's only slightly less steep than it's north peak counterpart. As always it was a good time of fellowship with Gary and Gabe truly enjoys the endless conversations with Gary about everything from books to birds. The hike itself was a bit un-exciting, (we only had limited views for a short time as we ate lunch on the North Peak lookout and we were totally clouded in by the time we got to South peak). The trail is rather plain and other than .5 mile steep section, wasn't any big deal. I do strongly recommend keeping the AMC guide and map handy and keeping very careful count of the river crossings because there is a lot of opportunity to loose track of the real trail. There are a lot of bush whacked trails that are heavily traveled and camped on lower sections of the Hancock Notch and Cedar Brook trails.
There were lots of opportunities for the foot washing and we took the first one we crossed on our trip back down. Even though we still had several miles and lots of water to cross to finish the hike it was nice to cool the dogs down so early in the trip. We hiked very close to book time (6.5hrs.) and we were all happy to complete the trip by 4:30PM. I don't think I'll ever forget the two characters we met on the steep section coming down from South Hancock. Not that they were particularly unique or anything or that we exchanged more than a few sentences with them. It's more what they said that I won't forget. As we passed them while they were taking a few moments to rest; they excused themselves for taking a break in the trail but they needed to give their "recently operated on knees a rest". So what's that about, two people hiking a ten mile loop, with two mountains, just weeks after reconstructive Knee surgery? Some physical therapy routine!
This was a day for another interesting conversation that has resulted in shifting our hiking experience into a new plane. Extended backpacking. It had been on my mind for a while now, (I think it was mostly an effort to get out of bagging 4K's.) but as we were recovering from the hike in the car, I happened to mention that it might be cool to section hike the Massachusetts section of the AT. Gary's eyes lit up like a Christmas Tree. It seems I'd surfaced a life long dream of Gary's, (I mean really life long, he actually purchased the trail guide for the Massachusetts section of the AT in 1972.) From that moment on, it was going to be a done deal here it was August and we decided to do the Massachusetts Section next July during the first week of Gary's vacation. We were all in! Now we just had to tell Shawn what to expect next summer.