"The goal of life is to make your heartbeat match the beat of the universe,
to match your nature with Nature."
Joseph Campbell
Mt. Jackson (4052)

Trail: Webster Jackson trail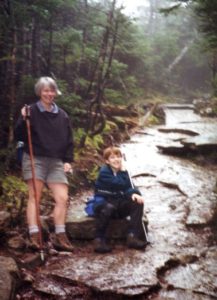 Date: October 11 1998
Attending: Gabe, Simone, & John Chicoine
Miles: 5.2 Time: 5.5Hrs
AMC huts, / shelters / camping site: None
Weather: Rainny, 60 at base, 20'ish on summit,
This is a very nice trail. We didn't get to the trailhead until 12:00 on Sunday, because we stopped at EMS to purchase our System 3 foul weather shells at the annual Columbus Day tent sail. (We paid too much, $80 bucks each, we found one for Noah for $40 at Peterborough that had some stitching problems inside the pit zips.) But! They made this hike do-able. It was raining! Just the right time to try out the new gear. It had been raining for the previous 4 days up in the Whites so the trail was saturated and 2″ deep mud. What wasn't mud was a flowing stream down the trail. It was 1/2-inch deep water cascading over the stones. We loved it! At one point we had to ford a small river, we hooked our poles together to form a handrail for Gabe to hold onto while rock hopping. The summit is a 50′ hands and knees rock scramble up a bolder side onto the final peak (plenty safe in dry or even wet weather.). One minute you're in the woods, and the next, you're standing on a large krumholtz covered dome.
On the way up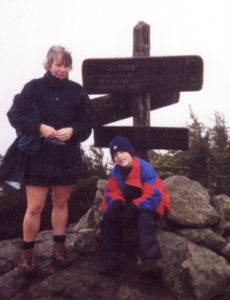 we kept noticing people all bundled up in winter gear, coming from the summit, we couldn't figure it out, we were getting wet, but we were warm, in shorts even. But, as soon as we reached the summit we found out why people were so bundled up. The Temps with the wind chill had to be below 20, with horizontal rain/sleet.
Needless to say we didn't stay on the summit long. There was nothing to see beyond 60 feet, and it was so cold that we could hardly stand it long enough to snap a picture. I was afraid the rock scramble we just did to reach the summit, might start to ice up. We made it down to the car, at 5:30. Gabe was cold, we were all wet, and muddy. No foot washing today, but echo lake is just across the street from the Crawford Notch RR station where we picked up the trail. Quack Quack.
Read about other Jackson hikes