"Great things are done when men and mountains meet."
William Blake
North and South Kinsmans (4293, 4358)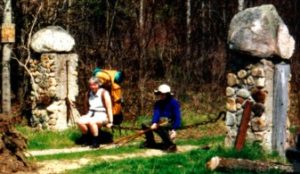 Trail: Mt. Kinsman trail, Kinsman Ridge Trail,
Date: May 4 & 5 2000
Attending: Gabe, Simone, John
Miles: (day 1) 4 miles to Kinsmans Pond shelter, : (day 2) 3 miles round trip to South Peak, 3.5 miles back to Rt.116
AMC huts, / shelters / camping site: Kinsman Pond Shelter
Weather: Day 1 sunny, 70ish, very light winds. Day 2 wet, cloudy.
This was our first over-night backpacking trip this year. #'s 31 and 32. I was not in shape for it yet; I was beat after the first mile. If we would have met up with a lawyer on the trail, I would have filed for divorce. Simone just had to have this one. She just kept on moving up hill. I knew we were in for snow, ice, wet/cold boots, rain and possibly a very cold night, and Friday's weather was iffy.
Day one: We hit the trail at 11:30, I was counting every step. The trailhead is not marked, but the AMC guide book gets you there. I don't know why they didn't mention the two stone gate pillars that are the trailhead. There are three nice river crossings, and several spots that you have to visit. There are some nice water falls just up stream from the lower crossing, and the flume is worth the 100 yard side trip. The views from the .1 mile trip to Bald Knob is well worth the time, for that matter,,, Bald knob is not a bad destination in itself. Here's those stone pillars. The Franconia Town line sign is about 15 feet to the left of this picture.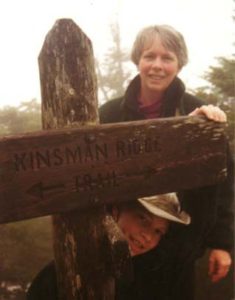 Just after leaving Bald Knob, the trail turned to mud, hard packed snow, and ice patches. The Ice patches were generally passable, and the hard packed snow held well over the running springs. We post-holed a few times, and all of our boots were beginning to soak up the wet. We got to the Kinsman Ridge trail at 5:00, where the trail was quite a bit more traveled and harder packed. Our trek down to the pond shelter took another 15 minutes of careful navigation. We expected to have the mountain alone, and we did. I set up our tent in the shelter hoping to help keep the wind off of us for the night, and hoping that if the predicted "possible showers", turned into a snow storm, we would be a bit more comfortable. Fortunately the temps did not drop much below 40'ish, and we all had as good a sleep as one can have on a backpacking trip. The "posible showers" were a steady rain from 10PM to 6AM. PRAISE BE TO GOD, it stopped at 6AM!!! Regardless, I knew all that water wasn't going to be a good thing, I suspected we might have to abort the attempt to bag the Kinsmans.
Day two: Within the first step out of the hut my fears were confirmed. Much of the hard packed snow that afforded good footing yesterday, was now large wet ice patches. Without Crampons, we had to take care to place every step, and plant those poles before each one. But, all was not catastrophic, I think the rain packed the trail on the Kinsman Ridge even harder. We dropped our packs on the trail at the Mt. Kinsman Trail junction, and with Grit, and Wit, we forged on, up to North Kinsman, and over the top towards South Kinsman. Again! PRAISE God, the south side of North Kinsman, was mostly clear, with only hard packed snow in the woods in the flat col between North and South. Not a view to be had, we were socked in the clouds, even the pictures of each other 30 feet away came out too foggy to scan. Although it wasn't raining, everything was damp to soaked, and what brushed and or blew off the trees felt like a gentle rain. The wind was real mild, and the temps were in the high 40's by 9AM.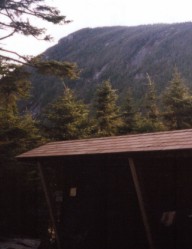 Back at the junction, and loaded with our packs we soon found out that the less packed Mt. Kinsman trail had softened substantially from the rain. Today, we post-holed often, and none of the snow bridges were holding. Thank God we only had a mile of this type of hiking, it was painful and frustrating. The boots now were twice their weight with water, but we were on our way home, and the temps kept getting warmer as we dropped down the trail. Simone post-holed and bruised her knee just as we were leaving the last of the snow. The trail had lots of running water everywhere, and as we approached our first river crossing on the way down we knew the sound of the river had substantially changed from the river we crossed yesterday. It was fine, (It sounded a lot worse than it was.) but there was no way to cross without getting our feet wet a bit. (like it mattered at this point) We had to do the "hop, skip, plop and lunge for shore".
Here's a couple of before and after pictures, side by side of a spot on the river we shot on both days. Gabe and I are standing almost in the exact same spots in both pictures.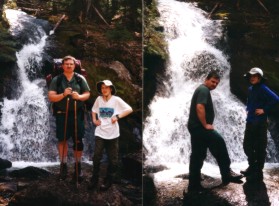 By the time we crossed our last river, the sun had come out, The Kinsmans were in clear view with just a few high clouds above, and the Trout Lilies were in bloom. The last mile was a great trek down a gentle dry cart road. The picture at the gate/trailhead was taken at the end of the trip. We were makin time, we were going home. All safe, slightly bruised, and completely victorious over our own challenges. Simone loved this kind of trip; I did too, but I wouldn't set out to intentionally have an experience like this. She would! I think I could make a good case of cruel and unusual abuse of a husband. Why do we always have to hike up something?
I got lucky with my glasses on this one. I left them in the side pouch of the tent in the morning and rolled the tent up into a tiny little ball and stuffed it into the stuff sack. I didn't notice I didn't have my glasses until I got back down to the car and needed them to drive. This was beginning of the ten year long granny glasses tie loops phase. (I had those stupid glasses hanging around my neck for a long long time.)
In retrospect, we all had lots of fun, and I suspect when conversations start up about hiking in the Whites, (as they always do) this trip will get a lot of favorable press.
Read about another North Kinsman trip with an overnight stop on Bald Peak!