"In the long run, men hit only what they aim at. Therefore, they had better aim at something high." Henry David Thoreau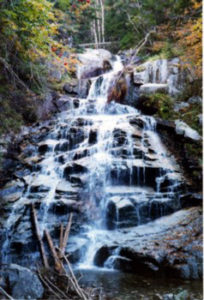 Mt. Lafayette (5266)Trail: Falling Waters, to Franconia Ridge trail (Part of the Appalachian Trail) to The Old Bridle path.
Date: Monday, September 25 1998
Attending: Gabe, Simone, & John Chicoine
Miles: 8.9-mile loop
Time: 9 hours , Little Haystack (4700), Lincoln (5089)
AMC huts, / shelters / camping site: Greenleaf hut Weather: Sunny, 70 to 75,
This is our first trip over the Lafayette Ridge. We parked at the Old Bridle Path trailhead on the north side of the Franconia Notch Parkway Rt93. We started up the Old Bridle path and veered off to the right up the Falling Waters trail to the top of Little Haystack (about 3 hrs). The lower part of the trail has lots of nice water falls and long switchbacks to make the hiking enjoyable. We enjoyed hiking this loop up Falling Waters; most people take the loop in the other direction but that way the falls are to your back. From Haystack we walked the Franconia Ridge trail to Mt Lincoln (not a spectacular summit, it's nothing more than a peak on the ridge trail on the way to Lafayette, we didn't even stop there to take pictures of us at the summit.) Mt. Lafayette on the other hand is quite a peak. It towers above all the rest and commands an audience. There is an old foundation on it's summit from another age when there used to be a hotel there. Unbelievable! Our decent looped over to the Greenleaf hut via the Old Bridle path. The hut is about 1/4 of the way down, but it sits in a perfect location for views of the Franconia range. Gabe purchased a patch for his collection of hut patches. The hut was booked-up for the night, offering 80 people 2 meals and a bunk for $55 a night. The hike could be done in less than 8 hrs, but an hour for viewing and resting is just barely enough.
I don't want to imply this hike isn't a tough pull. 9 miles anywhere in the Whites requires a serious effort and with Lafayette being the 6'th hightest peak of the 4K's it takes it's toll. A warning to the wise, plan on being above tree line for close to 2hrs. and the weather can change on Lafayette in no time at all. Weather fronts from the west hit this high paek first and a nice sunny summer day can get wet and windy quick. This peak tends get socked in with fog a lot and if you're doing this one in the winter, plan for potential worst case situations. Hardly a winter passes without several hikers getting into unexpected serious difficulties.
May God Bless and be safe!