Mt. Madison (5367)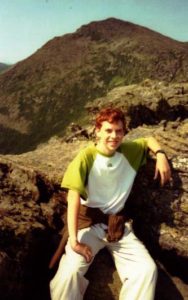 Trail: Valley Way up, Air Line down
Date: Saturday, July 13'th
Attending: Shawn, Gabe, Simone and John
Miles: 18.4Time: 8Hrs.
AMC huts, / shelters / camping site: Madison
Weather: Partly cloudy, high 70's at the base, 50's on the summit
Gabe with Mt. Adams behind him.
"Aim above morality. Be not simply good, be good for something."
Henry David Thoreau
And a wonderful time was had by all on # 44 for us. Just 6 days after our Mt. Isolation hike we hit the road for another great adventure. This time we needed to hit the trail as early as possible so we opted to head for the mountains on Friday night to camp out at the Dolly Cop Campground. (Dolly Cop is a very nice place to drop a tent for a few nights. It was quiet, clean and the sites were nice; all for only $16 a night.) We'll use this as a base camp again for sure. We got to the Valley Way trailhead by 7:30AM and divided up into two teams. Shawn and Gabe headed up ahead of us at their pace and Simone and I followed behind. Shawn and Gabe were going to bag Madison and meet us back at Madison hut for lunch. They would then begin their Northern Presidential hike over Adams and Jefferson, and then descend down the Caps Ridge trail. Simone and I would then go on to bag Madison for ourselves and head back down Madison over the Air Line trail to the car. If we timed it right, we would get to the Caps Ridge trailhead in sync with Shawn and Gabe. It worked perfect! We pulled into the parking lot just 15 minutes before they walked out of the woods. (A note for future reference; the Jefferson Notch road is off of Valley Road on Rt. 2. just a few miles up from Lowes garage.)
The Valley Way trail was just the moderate hike I needed. I was nursing a pulled groin muscle up the trail, and to my unspeakable joy, I completed the hike in no more than just a slight bit of discomfort. (I think I found a new day hiking trick, hiking in a pair of solid hiking sneakers with my Spenco hiking inserts.)
Madison is a great mountain peak in good weather but it would be 20+ minutes of total exposure in bad weather on .4 miles of difficult/ slippery rock scrambling above the hut. The Air Line trail is full of spectacular views into Kings Ravine, but not without a price. The lower 2/3 of the trail is much steeper than any section of the Valley Way trail and I invested as much effort going down the Air Line as I did hiking up the Valley Way. Shawn and Gabe loved the time and miles spent above the tree line. (3 new mountains for Shawn, COOL) The only regret I have is that we didn't spend the night at one of the Randolph Mountain huts.