"All endeavor calls for the ability to tramp the last mile, shape the last plan, endure the last hours toil. The fight to the finish spirit is the one characteristic we must posses if we are to face the future as finishers." Henry David Thoreau
Massachusetts AT section hike.
June 30'th – July 8'th + August 31'st – September 2'nd
Attending: Gary Gilchrest, Shawn White, Simone, Gabe & John Chicoine
Miles: 100
This is a before and after account of our Massachusetts AT Section hike. I've taken the time to include as much detail as possible, to provide a good reference for others hoping to do similar extended hikes.
.
Index: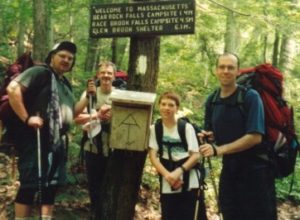 Who's idea was this?
White Mountains arrogant!
Planning
Meals
Tents
Transportation
Supplies
Proposed Itinerary
Actual daily milages
Daily Hike Journal
---

Whose idea was this?   It happened on one of our peak bagging hikes to the Hancocks. Just in passing, I happened to mention to Gary that my family had been contemplating hiking the Massachusetts Section of the AT. Little did I know that it had been a longstanding dream of his (Gary bought his Massachusetts AT Section guide in 1972), and the moment I mentioned it I knew the hike has slipped past contemplation into reality. Right away we started to make plans. Gary had date limitations for any such extended hike. We had to do this when his shop shut down for vacation in the first two weeks of July. We knew that we wanted Shawn to go on this hike, and his teacher's summer vacation schedule would work out fine. We had 8 months to think about the hike, so the real planning didn't start until the last week in March. But that didn't mean it was ever far from our thoughts. We passed Gary's AT guide around so we could get an idea of what we were up to. Gary and I started reading AT hiker accounts on the internet, and started thinking about the weight of the gear we would be carrying. The goal would be to hike border to border from Saturday morning June 30'th, to Saturday Night July 7'th. On the evening we planned our itinerary, we celebrated as though we had completed the hike. It looked perfect. Our itinerary is listed below.     see our   Proposed Itinerary
__________ back to Index

.
White Mountains arrogant!
Little did we know that we had way under estimated the difficulty of terrain we would be hiking. The new AT Section Guide was very clear about setting a reasonable expectation of 10 miles a day. The new maps provided both a topographical layout and a sidebar with the profile of the hills. We were White Mountains arrogant; we had assumed that since we were all very accustomed to hiking the Whites, that hiking the Berkshires would be a walk in the woods. We estimated that we would maintain an average of 1.5 miles per hour, for 8 to 12 hours a day, for 8 consecutive days. We knew that July would be hot, we though we really understood the heat, but our first 2 days were over 90 degrees, and the humidity was oppressive. It beat us down relentlessly. We had overestimated the group's capabilities. Not by much, but by enough to keep us from attaining our expected daily mileage goals.       see our    Our Actual Daily Mileage.
__________ back to Index
---

.
Day (1) Saturday, June 30'th:
Gary and Shawn met at our house, and Matt and Lisa Brouilett picked us up at 6 AM. It was a long 3+-hour drive to our destination on RT.41, just across the Connecticut border, and by 9:30 the heat had made it's presence known. Within 15 minutes of hitting the beautiful "Under Mountain trail", we all knew it was going to be a long, hot day. But with spirits up, and the full adventure ahead of us, we marched ahead. Within a few hours we crossed the Massachusetts border at Sages Ravine, and our official hike began. Sage's Ravine is pretty, but far from memorable. This first stretch of the hike doesn't have many views, and although the Bear Rock area is pretty, and it would have had some very nice views had it not been so hazy, it's mostly just a woods walk. (As is 90% of the Mass. AT section.) Bear Rock Campsite is one of the niceat campsites on the Mass. AT section.
Bear Rock Campground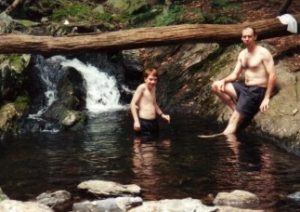 We fell short of the 9.5 miles we had hoped to reach by 2 miles. They were hard miles, up Mt. Everett, the longest/steepest continual elevation gain on the first 2/3 of the trip. We set up camp just off the AT at Race Brook Campground, just minutes before a wild thunderstorm hit. Had we decided to try to meet our goal for the day, we would have been caught on a steep semi-exposed trail, with no place to set up a tent, in a very serious storm. Shawn had the good sense to pack a 10 X 10 tarp for camp. What a blessing that was. The rain was torrential. Our site turned into an island with rivers flowing all around us.
Day (2) Sunday July 1'st:
The rain stopped just before we got up. We broke camp by 8AM and headed up Mt. Everett. It was a hard climb, and the heat and humidity never left us over the night. We reached yesterday's intended goal a little after 10AM. It had already felt like a long hike. Our breaks were short, and our goal was to try to make up the lost mileage. This would have given us a 16.5-mile march. We almost thought it might be do-able because we had a long flat stretch of field and a long stretch along the Hoosac River, but before we got there we had to hike several small mountains, with lots of ups and downs. They took their toll, and the few hazy views we got only exposed the many miles we would have to cover that day. The hike down from Jug End Mountain, to the valley floor was very steep and long, and we were glad to be done with it. We had a quick lunch, and began the long flat trek in the sun. The heat and humidity was relentless and it sucked the life out of us. We walked. By 3PM we reached the beginning of the populated area by the Hoosac River. We were beat. But we had to push on; it was another 3 miles to the other side of the Hoosac River and into the first woods. I was so exhausted I couldn't stop for a break. I had to keep going. I zoned out. I put one foot in front of the other, mile after mile. The only thing I can remember clearly for the last few miles was the patch of stinging nettle I brushed into by the Hoosac. Now that's and interesting plant, Ouch! When we finally reached the woods, I couldn't take another step. Just as we entered the woods it began to rain. I just collapsed onto my pack like a road-killed turtle. Rain or not, I had to have a minute to rest. We set up the tents, set up the tarp, and began the loosing battle with the mosquitoes. They were so bad that we had to eat our soup under our mosquito nets. The rain only lasted long enough for me to collect enough water off of Shawn's tarp for dinner. Later, just about at sunset, Gary and Shawn headed out to a stream on a horse farm for water. The horses chased them away from the brook just as they had finished collecting what we needed. The mileage for the day wasn't bad, 11.5 miles, but we were now, 4.5 miles behind schedule. The rain brought in a cold front, and the night dropped under 40 degrees, I spent the night chilled. We had a few visitors through the night, trying to get to our food bags, we heard one fall out of the tree and hit the ground with a loud thump. (We feared it was one of our bags of food. It wasn't.)
Day (3) Monday July 2'nd
We broke camp in a cold, chilled air and hit the trail by 8AM. Once again, we started off with an initial long stretch uphill. The maps sure looked easier than this. It was obvious that we just wouldn't have had the strength to push on to Tom Leonard South lean-to the previous night. We took the scenic lookout loop for one of the very infrequent views afforded by this section. So far, we hadn't seen many other hikers and because we were out of sync with the hut system, we didn't meet any through-hikers. We leapfrogged a couple of older gents for the first two days, but they were long since gone. We had lunch at Tom Leonard Campsite. It would have been a cool place to stay for the night. There is a large rock crevasse, and lots of cliffs and ledges to explore. Garry had been complaining about being in a bit of a funk for the first half of the day, but he seemed to work out of it as the day went on. Gabe on the other hand was wearing very thin as each mile added up. It was there that we first mentioned to Gary that if he felt he and Shawn could make up the miles, that we would work out supplies enough to split up the group and give Gary the opportunity to reach our original goal. We finished our lunch and moved on. The temperatures did manage to climb back up into the mid eighties, but the humidity was all but gone. This day tended to pass without anything noticeable, or memorable. We did meet one interesting character on the trail that told us of some of her misadventures on the trail, (IE, the previous night her pepper spray had exploded all over her.) She felt quite at ease sharing several other misadventures and then ambled on down the trail. We spent the night at Mt. Wilcox North Campsite with a young college student that was trough-hiking. We learned from him that you can mix/eat instant oatmeal right out of the bag. Cool! That's a practice I'll definitely use. Now almost 1 day behind schedule we knew that we would have to re-adjust our goals. That night we sat down and re-evaluated the rest of the hike. Gary surmised that if he added 1 more day to the schedule, he could keep up with the original plans to average 14 miles days for the rest of the trip, and bag the section in one attempt. Shawn's schedule couldn't be extended, so if Gary were going to go for it, he would have to do it alone. He decided to try it. We gave him the maps, and we kept the book. He took a tent, and Gabe moved in with us, and we gave Gary a water filter. Gary would hit the food stash sometime on the next day, so he would have plenty of food supply.
Day (4) Tuesday July 3'rd
Gary was off very early, The air was cool and he would have moderate temperatures to hike in for the rest of the day. With the pressure off and comfortable temperatures we started the day at our usual time. We had all decided to just take each mile as they came. This hike was pleasant and we passed Shaker Campground, (the campsite we had planned to spend Monday night at) by 11AM. We had lunch by the side of Hop Brook, in the midst of beautiful farms and pastures. The sky was darkening up, and we had no idea of the weather forecast. We asked a couple of through hikers if they knew what our weather was supposed to be like and they said rain for the night, and next day. We decided we had had enough. We were tired, we had blisters, and other issues, and didn't want to deal with a night and full day of rain. We either got off the trail now, or not for another two days. We decided we would hike to Tyringham and call my parents for a ride. Tyringham is a pretty little outcropping of homes centered round a community playground/ ball field, with a post office/library, and a town hall/police department/city works department in one building. They have a porta-potty, and a phone booth on the front lawn of the town hall. That's all we needed. The police officer there was very nice, and he confirmed the bad weather forecast. So there we were, down, waiting to be rescued just 4 days into the 8 day hike. We were hardly 35miles into the hike. We spent a few hours in the nice park relaxing and waiting for our lift. The ride home was no celebration. We were bummed; a month of planning and preparation for 4 days of hiking.
Day (5) Wednesday July 4'th
No rain in sight! We crawled out of bed feeling like a truck had just run over the cat. Simone had started hand washing all the clothes, and I finished unpacking the packs. We washed and treated the blisters, and sat down to a miserable breakfast. By 8AM I just couldn't take it any more. "We're going back tomorrow."
I called my dad and asked him if he would bring us back out to Tyringham. I pulled out the maps and judged we could make another 30miles to Dalton in 3 days.
I needed some new Spenco insoles if I was going to step another mile. We needed a few other things from EMS; they were open on the fourth of July. As it turned out I never found the insoles I needed, but I did find a great deal on a used pair of Merrill boots from the EMS outlet. We called Shawn to see if he would like to join us. He opted to stay home and attend the rest of the classed he was planning on skipping. Gabe wanted nothing to do with getting back out there; but he had no choice. We spent the rest of the day packing back up. Our spirits were high! This time we had no pressure, the mileage's were do-able, and the temps were going to be seasonable. We knew we all had a few wounds we were going to have to nurse, but we felt we could deal with it. At 5PM the phone rang with a surprising but very welcome voice; Gary had gotten off the trail in the morning and was calling from his home. He wanted to drop off the gear he borrowed and tell us about his adventures. On Tuesday he had a great day, and hiked 16 miles before he set up camp. He had planned to spend the night at October Mountain Shelter, but was encouraged to move on after reading the warning that the site was visited by black bears almost nightly. Considering there was no one else at the site, he thought it best to move on down the trail a few miles. That night animals trying to steal his food visited his campsite. He didn't get much sleep. By dawn another plague had set in, diarrhea. When daylight broke he found that his food had survived the raid, but he was feeling weak from the previous long day. He had a serious blister, no sleep and now this stomach ailment. He packed up the tent and headed to Pittsfield Rd. Once there he decided he had had enough; it was time to stick his thumb out and get to a phone.
Day (6) Thurdsay July 5'th
Back on the trail by 10AM. We started the long gentle slope up out of Tyringham. The temps were high, and the humidity was thick, but we were where we needed to be. Gabe didn't think so, and he was bitchen every step he took. If it wasn't for the salamanders to keep up his interest, I'm not sure we would have survived. We counted 74 salamanders in just two hours of hiking. By 1PM we made it to Goose Pond Rd. where our stash was; so did the rain. Just as we got to the stash we had a downpour. I couldn't stop and think about what, or even if we really needed anything out of there. I reached each of the buckets and grabbed what I though made sense to take, and quickly put the covers back on the pails. As it turned out, we really didn't need anything from the stash, and we REALLY didn't need the extra 4 or 5 lbs. we each stuffed in packs. Within three miles we were all bitchen. The packs were wet and heavy. We still had a few more miles to get to Upper Goose Pond shelter, and Simone's feet hurt! The rain stopped and by 3:30 we limped into one of the nicest stops on the entire Mass AT section. The cabin sleeps 20, on bunks with mats.
Upper Goose Pond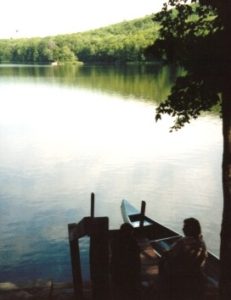 I went swimming in the lake! You can even use the canoe if you want. The caretaker had a batch of cookies in the oven that would be ready at 4:00. There were only a few of us so she invited us to have Linguini with clam sauce for supper. All for $3.00 each. God is good! We met Beer-meister, and Grizzly-Andy, through-hikers. We met Eagle, a serious full-time hiker that's hiked every long trail in North America. He clocks 22 miles a day. We even met an AT through hiker groupie that hops about to different sections of the trail stopping in at shelters she can hike to within a few hours from the road, and gossiping about the hikers. Her father was through-hiking on another section of the trail. We also found another blessing, the hiker box; a place where hikers can dump excess food for other hikers to help themselves. We dumped about 5lbs. of food that we picked up from the stash the day before.
Day (7) Friday July 6'Th
We reluctantly headed off from the cabin in great spirits and with full bellies; the shelter includes all you can eat pancakes for the $3.00 fee! The caretaker told us that there had been no sightings of bears at October Mountain shelter, but porcupines visited there every night, and had been doing some real damage. We crossed the Mass Pike within an hour of leaving Goose Pond Cabin.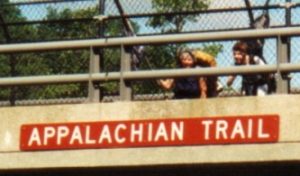 We made it to October Mountain shelter by 1:00, and met Trailsnail, and Tumbleweed, a couple that had been section hiking the AT a few weeks a year for ten years, and had 1000 miles of it done. We had a whole day ahead of us and October Mountain didn't appeal to us much at all, so we decided to just push on. Our next goal was to get a few miles down the trail to the Cookie Lady's house on Pittsfield Rd., and set up for the night there. When we got there nobody was home, so we didn't feel we should just set up camp without asking. Trailsnail, and Tumbleweed were waiting when we got there, and they decided to move on too. Within a few hundred feet on the trail, we spotted a large bear prints walking down the trail. This was not cool. We figured we needed to put a few miles between the tracks and us before we considered setting up camp. As the day wore on we just kept on walking. We had told each other we could stop anytime either one of us had had enough. We crossed Blotz road. We had already hiked 15 miles, and it was only 5PM, and 3.6 miles to the Kay Wood shelter. We decided to go for it, always knowing that we could set up camp the moment anyone of us said we were done. We reached Warner hill summit, the first peek that lays out the entire rest of the hike up to Mt Greylock. The summit is a beautiful fern covered knoll.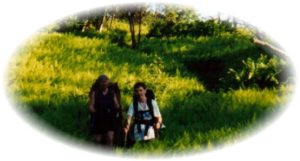 I really wanted to lay the tent on top of that nice thick ground cover, but we pushed on, only a few more miles. We stumbled into camp at 8PM. Having been hiking for 12 hours, and covered 18.5 miles. We were soaked with sweat, and too tired to care or change out of our clothes. We met Healing Hands, Rick, and Boomer there. They were solo section hikers that hike the AT a few weeks at a time, a few times a year, each year. Boomer was heading north, Healing Hands heading south. We slept real well this night.
Day (8) Saturday July 7'Th
Only 3.5 miles to Dalton, with another 1.5 more miles to where we parked the car. Before we left camp we told Healing Hands where to find some food we would leave on the trail for him at our stash. Hopefully he got there before the animals got to it. The hike from Kay Wood shelter to Dalton was tiring, with lots of ups and downs; our bodies hadn't recovered from the previous 18 mile day yet. We were glad we only had a short mileage day. We reached Tom's house in Dalton by 10AM, and took a few pictures; we stashed a few more parcels of food in the hiker box. We stopped for breakfast at the Duff & Dell's Mom & Pop deli in the center of town. Breakfast was good. Dalton seemed like a nice quiet Berkshire town. I'm glad the AT passes through it. One last picture on the camera, saved just for the end of our quest. Simone wanted to try the timer, and have us all in the picture standing under the big AT sign leading into the forest where we would begin our trek to finish the Mass section of the AT. We ended up with a picture of Gabe's armpit. We headed to Goose Pond Rd. to save Gary the hassle of having to spend a day driving out to pick up the stash buckets. Just at the end of Goose Pond Rd. next to the Mass turnpike, is the Lee factory outlet plaza. Every kind of meaningless junk essential to modern man could be purchased here, and proudly displayed in your home. Gabe just had to go. What a culture shock! To come off 8 days in the midst of nothing that God's own hands hadn't formed, to the epitome of everything that God's hands would never touch. We wanted to turn around and go back to the trail.
7 days of walking, app. 65 miles. If you take away the travel time, and quitting in Dalton by 1PM, it looks like a good average for our hiking is 10 miles a day. Funny, I seem to remember that number from something else.
To quote Healing Hands, "It looks like we learned a lot on this trip". We all stretched our limits. We love it. We can't wait to get back out there to finish it up. We're already looking at the Connecticut section for next year. If I were to summarize the greatest lesson we learned this week, it would be this: The goal is just a target. It gives you your direction. It's a moment, at the end of all the effort and work. That's all! The hike is what it's all about. The hike is what you're doing, it's what you are living through, it is why you're out there in the first place. The hike is what's important. You can't sacrifice days worth of hiking, for one second of crossing the goal.
The beginning of the end, (On the trail again.)
Day 9 (8'th day of hiking) August 31'St. Gary and Shawn had to pick up the miles from Pittsfield Rd. to Dalton in order to sync-up with us, so this gave us some time to drop a car in North Adams, and get back to Dalton. We dropped Gary and Shawn off on Pittsfield Rd. at 8:30AM with daypacks. They would pick up their backpacks from the car parked in the AT parking in Dalton. Simone, Gabe and I would meet them at Crystal Mountain Campsite. We met up at 2:30 and decided we would continue on to the hiker hostel in Cheshire. With the expected heavy rains and thundershowers, we felt it was worth the effort. The Cobbles just above Cheshier are great, and there are quite a few nice campsites on the hills. Exhausted, and licking our wounds, we really needed to spend a night out of the rain, and in a comfortable hostel, but it was not to be. THE HOSTEL IS NO-LONGER OPERATING. The new priest has shut it down. With no place to go, we limped out of town across Rt. 8 to a field atop a grassy knoll. We managed to set up camp and have our dinner before the rains came. We were hot, it was humid, and the sky just opened up with a gully washer. Thank God Simone had seam sealed the tents before the hike. Out tents could not have been expected to perform better. It rained hard almost all night, but before morning light, the rain stopped, and we were dry. (God was with us; we never had to set up or break camp in the rain.)
9'th day of hiking, September 1'St. We were a bit stiff, but optimistic. We were 4 miles ahead of schedule, and we knew we would press on to the summit of Mt. Greylock today, (one day early) and possibly reach Wilbur Brook Campsite. Mt. Greylock was a tough climb, and the day was very overcast and windy. By noon we were having lunch just a mile from the summit, bundled in our raincoats for warmth, and protection from the damp wind. People we met coming down from the summit told us that the top was socked in with no views, but as we continued on the sky began to clear. Just as we reached the summit, the clouds blew out and we had our well-deserved views we had hiked so long for.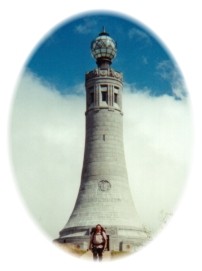 We lingered on the summit for an hour, catching our breath, loaded up our water supply, and started the long 3-mile trek down to Wilbur Brook. The campsite was very unimpressive, and we opted to set up our tents outside the perimeter of the camp. The night air was cool and refreshing.
10'Th day of hiking, September 2'nd. The morning hike started out with a steady uphill climb out of Wilbur Brook Campsite to one of our most stunning sights of the entire trek. On a stunning lookout on Prospect Mountain, over looking the Hudson River Valley, we were treated to the most awesome view of the valley socked in by a thick white cloud cover, while we stood above the clouds on a bright sunny morning.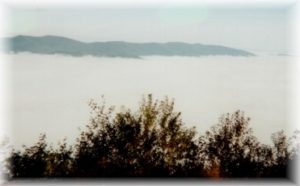 The trail drops steadily and relentlessly for several miles as it descends into a quiet neighborhood of North Adams. In town we crossed the dirty hoosac River one more time, and started our final section to the Vermont line. The trail follows Sherman Brook to Sherman Brook Campsite, then climbs steeply up the last ascent over East Mountain. Once over East Mountain the trail traverses a high wooded ridge to the Vermont line.
We made it!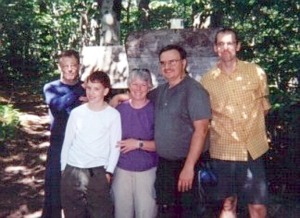 We made it! This section is one of the prettiest sections in Massachusetts. A fitting end to a long journey. Within a few hours we were back at Sherman Brook washing off and soaking our feet before the short hike to the car. We stopped at Pizza Hut for our last official meal of the hike, and headed home, one day earlier than we had planned for this last section, but several days longer than our original plans for the entire trip.
__________ back to Index
A retrospective side note: Extended backpacking is different than long day hikes, or even weekenders. It took up more time than I thought it would; time spent readying the gear, meals, and planning the trip. Gear purchased for the express purpose of extended hiking. We found that we didn't spend much time at all "bagging peaks" in the White's this year. We even had to re-focus somewhat on the 4K goal, and promise ourselves that we would bag at least 1 new peak in 2001. But we like it; it's worth the sacrifices. I feel kind of sad when I think back over the whole ordeal. Sad that it's over; it was good, just the way it was. I hope we can do this again, but things change, and we may never be able to repeat this experience, but I can hope!
__________ back to Index
.
Planning:
We did some preliminary planning via E-mail, but the reality of the hike hit home the night we got together and planned out the itinerary for the hike using the maps. I started planning in detail the checklist for the gear Simone, Gabe, and I would be packing. My hopes were to keep the weight down under 35lbs. for me, 30lbs. for Simone, and 25lbs. for Gabe. Gary planned for us to have a stash (food and cloths) that we should reach on the 4'Th morning, so we never have to carry more than 3 days of food. The stash idea would cost Gary a lot of extra time before and after the actual hike, but it was a critical help to making this type of hike possible. Water would be abundant so we shouldn't have to carry more than 2 liters each at any time. (This summer was dry, and the water sources were almost dry. We even had to purchase water at a gas station once. No one ever packed more than 2 liters, but we all were careful to fill our water supplies at every opportunity.
__________ back to Index
We have (2) Sierra Designs Orion CD tents, (under 5lbs.), Gary and Gabe will use one, and Simone and I will use the other. Shawn has a 1-man tent for himself, so it all worked out. Other than the night we slept in Upper Goose Pond Cabin, we never slept in a shelter. For that matter, we seldom even camped at an AT campsite or lean-to. I recommend packing a good tent.
__________ back to Index

.
Why does everything have to be so far?
Transportation was a tricky hurdle we had to overcome. How were we going to get 5 people and gear to and from the trailheads? We had decided that we could split a $150.00 offering for gas and time for someone to drive us, but it couldn't be in an average car, we would need a van. Fortunately, we have good friends, and Mat Brouillet accepted the offer to drive one of the church vans. No small gesture on he, and his wife Lisa's part. We needed to leave by 6AM, and the drive was 3.5 hours each way. Gary planned to borrow a cell-phone for emergencies, and to call Matt Brouilett, to schedule the pickup time. (We opted not to carry the extra weight of the cell phone.)
__________ back to Index
What's in the bags?
We packed our stash with items we would one-to-one swap, for items we started the hike with, (Socks, pants, shirts, and underwear). That way we wouldn't have to wash cloths, and we could replenish the food without having to go into town. We packed the necessary hard items, then added food, drinks and snacks until we reached the weight limits listed below.

| | | |
| --- | --- | --- |
| Simone: 34Lbs | Gabe: 27Lbs | John: 40Lbs |
| (2) pair socks & liners | (2) pair socks & liners | (2) pair socks & liners |
| (3) pair underware | (2) pair underware | (2) pair underware |
| (1) poncho | (1) poncho | (1) poncho |
| (1) pair shorts | (1) pair shorts | (1) pair shorts |
| (1) pair long pants | (1) pair long pants | (1) pair convertable pants |
| (2) short sleeve polypro/nylon shirts | (2) short sleeve polypro/nylon shirts | (2) short sleeve polypro/nylon shirts |
| (1) long sleeve polypro/nylon shirt | (1) long sleeve polypro/nylon shirt | String for Bear bag |
| Sandles | Sandles | Sneakers |
| hat | hat | hat |
| cut down tooth brush | cut down tooth brush | cut down tooth brush |
| Full torso bug net | Full torso bug net | Full torso bug net |
| Hiking poles | Hiking poles | Hiking poles |
| Watch | Watch | Knife/Multitool |
| (1) plastic cup (1) cut down spoon | (1) plastic cup (1) cut down spoon | (1) plastic cup (1) cut down spoon |
| Tinting eye-glasses | Sun glasses | Eye-glasses |
| Polartec 300 sleeping bag | Polartec 300 sleeping bag | Polartec 300 sleeping bag |
| 3/4 length self inflating pad | 3/4 length self inflating pad | ZRest pad |
| (2) gatorade bottles | (2) gatorade bottles | (1) gatorade bottle, (1) SafeWaterAnywhere bottle |
| Tent rain-fly | Tent rain-fly | Sierra Designs 2 man tent @ poles |
| Emergency kit | Toilet paper | Stove & Gas canister |
| (2) large Plastic baggies | | aluminimun 4Qt. pot & lid |
| Toilet paper | | AT Guide & Maps |
| Flashlight | | 6oz. bottle camp soap |
| sample tube of tooth paste | | Toilet paper |
| Food, (1)liter of water @ snacks | Food, (1)liter of water @ snacks | Food, (1)liter of water @ snacks |
__________ back to Index
Saturday June 30'th

| | | |
| --- | --- | --- |
| (Depart from Gardner MA. @ 6:00AM) | Trailhead in Conneticut @ 9:30 AM | |
| Under Mountain Trail | Massachusetts border | 3.2 Miles |
| Massachusetts border | Clen Brook Shelter | 6.5 Miles |
| | | 9.7 Mile total day |
Sunday July 1'st

| | | |
| --- | --- | --- |
| Glen Brook Shelter | Jug End Road | 3.5 Miles |
| Jug End Road | RT. 7 | 4.7 Miles |
| RT. 7 | Tom Leonard Campsite | 6.4 Miles |
| | | 14.6 Mile total day |
Monday July 2'nd

| | | |
| --- | --- | --- |
| Tom Leonard Campsite | RT. 23 | 2 Miles |
| RT. 23 | Shaker Campsite | 9.2 or 11.2 |
| Shaker Campsite | Baldy Mountain | 3 Miles |
| | | 14.2 or 16.2 Mile total day |
Tuesday July 3'rd

| | | |
| --- | --- | --- |
| Baldy Mountain | Goose Pond Rd. (the stash) | 2.4 Miles |
| Goose Pond Rd. | RT. 20 | 4.1 Miles |
| RT. 20 | October Mountain Campsite | 4.7 Miles |
| | | 13.7 Mile total day |
Wednesday July 4'th

| | | |
| --- | --- | --- |
| October Mountain Campsite | Pittsfield Rd. | 2.2 Miles |
| Pittsfeild Rd. | Mass 8 (Dalton) | 9.6 / 11.8 |
| Mass 8 | Crystal Mountain Shelter | 4.7 |
| | | 16.5 Mile day total |
Thursday July 5'th

| | | |
| --- | --- | --- |
| Crystal Mountain Shelter | Mass 8A | 4.5 Miles |
| Mass 8A | Mark Nopel Shelter | 4.4 Miles |
| | | 9.5 Miles total day |
Friday July 6'th

| | | |
| --- | --- | --- |
| Mark Nopel Shelter | RT. 2 | 10 Miles |
| RT. 2 | Sherman Brook Shelter | 1.6 |
| | | 11.6 Mile total day |
Saturday July 7'th

| | | |
| --- | --- | --- |
| Sherman Brook Shelter | Vermont border | 2.4 |
| Vermont border | back to Rt.2 | 4.1 |
| | | 6.5 Mile total day |
| | | App. 100 Miles total trip |
__________ back to Index
Gary's original idea was to rough it out as light as possible, without a stove and cooking gear. We have one that is just a few ounces, and the pot can serve for washing, so even with the fuel canister, it would be worth the weight to have hot meals, and oatmeal in the morning. What to cook was another subject. We borrowed a dehydrator in March, and began drying Beef Jerky, (8Lbs of lean steak) and vegetables (10Lbs of carrots), frozen peas, and corn, to add to the usual Knorr Soups with Raman noodles. The dinner meals fed all 5 of us. Once the water was up to a boil, it took about 3 minutes of boiling water, and 5 minutes setting without heat, to reconstitute the dried goods. For all of the other meals we were each responsible for our own food.

| | | |
| --- | --- | --- |
| Meals | Food | Supplies |
|   | Saturday | |
| breakfast | Eat breakfast on the road (McDonalds) | |
| Lunch | (3) grinders from Subway | |
| Dinner | (2)Pkg. Raman noodles, (1)Pkg. Knower soup, ((1/4 cup each) dried beef, peas, corn, carrots) (1)clove fresh garlic | Stove, Pot, Cups Spoons |
| Fluid & Snacks | (3)liters of gatorade, Filtered water, Gorp | |
| | | |
| --- | --- | --- |
|   | Sunday | |
| breakfast | (5)bags instant oatmeal | Hot water, cups, (oatmeal made drinkable) |
| Lunch | (6)slices of When Pigs Fly Bread & PB&J | Knife, squirt bottle of PB&J |
| Dinner | (2)Pkg. Raman noodles, (1)Pkg. knorr soup, ((1/4 cup each) dried beef, peas, corn, carrots) (1)clove fresh garlic | Stove, Pot, Cups Spoons |
| Fluid & Snacks | (3)liters of Tang, Filtered water, (3)Kudos bars | Powdered Tang |
| | | |
| --- | --- | --- |
|   | Monday | |
| breakfast | (6)Poptarts (2)each | |
| Lunch | (3) grinders from Subway | |
| Dinner | (2)Pkg. Raman noodles, (1)Pkg. knorr soup, ((1/4 cup each) dried beef, peas, corn, carrots) (1)clove fresh garlic | Stove, Pot, Cups Spoons |
| Fluid | (3)liters of gatorade powder, Filtered water, (3)Kashi bars, Tea at night | powderd gatorade, (3)tea bags, (3)sugar packages |
| | | |
| --- | --- | --- |
|   | Tuesday | |
| breakfast | (3)bags instant oatleal | Hot water, cups, (oatmeal made drinkable) |
| Lunch | (3)slices of When Pigs Fly Bread & PB&J | Knife, squirt bottle of PB&J |
| Dinner | We were getting off the trail at 4:00PM, so we didn't bother to cook anything. | |
| Fluid | (3)liters of gatorade, Filtered water, Gorp, Dried beef. | Powdered Gatorade |
| | | |
| --- | --- | --- |
|   | Wednesday. Off the Trail (our unplanned zero day) | |
| | | |
| --- | --- | --- |
|   | Thursday | |
| breakfast | Eat breakfast on the road (McDonalds) | |
| Lunch | Crackers and cheese, Hit Stash, 12oz. Juice drinks! | |
| Dinner | Caretaker at lower Goose Pond cabin fed us Linguini with Clam sauce, and salad, and fresh baked cookies. | We dropped lots of food in the hiker box. |
| Fluid | (3)liters of gatorade, Juice boxes | |
| | | |
| --- | --- | --- |
|   | Friday | |
| breakfast | Pancakes at lower Goose Pond cabin! | |
| Lunch | (3)slices of When Pigs Fly Bread & PB&J | Knife, squirt bottle of PB&J |
| Dinner | (1)Pkg. Couscous (Spanish style) ((1/4 cup each) dried beef, peas, corn, carrots) (1)clove fresh garlic | Stove, Pot, Cups Spoons |
| Fluid and Snacks | (3)liters of gatorade, Filtered water, Gorp | |
| | | |
| --- | --- | --- |
|   | Saturday | |
| breakfast | Crackers to get us to Duff and Dell's in Dalton for Eggs and Homefries! | |
| Lunch | Gorp | |
| Dinner | Home for Dinner! | |
| Fluid | (3)liters of gatorade, Filtered water | |
__________ back to Index
Saturday June 30'th

| | | |
| --- | --- | --- |
| (Depart from Gardner MA. @ 6:00AM) | Trailhead in Conneticut @ 9:30 AM | |
| Under Mountain Trail | Massachusetts border | 3.2 Miles |
| Massachusetts border | Race Brook Campsite | 4.2 Miles |
| +.5 back and forth to Race Brook | | 8 Mile total day |
Sunday July 1'st

| | | |
| --- | --- | --- |
| Race Brook junction | Jug End Road | 5.8 Miles |
| Jug End Road | RT. 7 | 4.7 Miles |
| RT. 7 | Woods at Kellog Road | 1.2 Miles |
| | | 11.7 Mile total day |
Monday July 2'nd

| | | |
| --- | --- | --- |
| Woods at Kellog Road | RT. 23 | 7.2 or 9.2 Miles |
| RT. 23 | Mt. Wilcox South Lean-to | 3.3 |
| | | 12.5Mile total day |
Tuesday July 3'rd

| | | |
| --- | --- | --- |
| Mt. Wilcox South Lean-to | Tyringham Road | 8.8 Miles |
| Tyringham Road | Tyringham center | 1 mile |
| | | 9.8 Mile total day |
Wednesday July 4'th

| | | |
| --- | --- | --- |
| Off the Trail | | |
Thursday July 5'th

| | | |
| --- | --- | --- |
| Tyringham Road | Goose pond Rd. (The stash) | 4.3 Miles |
| Goose pond Rd. | Upper Goose Pond Cabin | 4.2 Miles |
| | | 8.5 Miles total day |
Friday July 6'th

| | | |
| --- | --- | --- |
| Upper Goose Pond Cabin | Mass Pike | 1.7 Miles |
| Mass Pike | October Mountain Shelter | 7.6 |
| October Mountain Shelter | Pittsfield Road | 2.2 Miles |
| Pittsfield Road | Kay Wood Lean-to | 6.6 Miles |
| | | 18.1 Miles total day |
Saturday July 7'th

| | | |
| --- | --- | --- |
| Kay Wood Lean-to | RT. 8 Dalton | 3 Miles |
| RT. 8 Dalton | Gulf Road AT parking | 1 Mile |
| | | 4 Mile total day |
| | | 64.6 total miles for the week |
Friday August 31'st

| | | |
| --- | --- | --- |
| Gary & Shawn, Pittsfield Road | Gulf Road AT parking, Dalton | 10.6 Miles |
| All of us again, Gulf Road AT parking Dalton | Rt. 8 Cheshire | 8.3 Miles |
| | | Gary & Shawn 19 Miles |
| | | Simone, Gabe & John, 8.3 Miles |
Saturday September 1'st

| | | |
| --- | --- | --- |
| Rt. 8 Cheshire | Mt. Greylock Summit | 7.6 Miles |
| Mt. Greylock Summit | Wilbur Clearing Lean-to | 3.4 Miles |
| | | 11 Miles total day |
Saturday September 2'nd

| | | |
| --- | --- | --- |
| Wilbur Clearing Lean-to | Rt. 2 | 3 Miles |
| Rt. 2 | Vermont line | 4.1 Miles |
| Vermont line | back to Rt.2 | 4.1 Miles total day |
| | | 11.2 Miles total day |
| 10 days for Simone, Gabe & John | 8 days for Shawn and Gary | 103 Miles total trip |
__________ back to Index