"It is not so much for its beauty that the forest makes a claim upon men's hearts, as for that subtle something, that quality of air that emanation from old trees, that so wonderfully changes and renews a weary spirit." Robert Louis Stevenson
Owl's Head (4025)
Trail: Lincoln Woods, Franconia Brook, Lincoln Brook,
Owl's Head Slide & Franconia Brook Falls
Date: September 9 & 10, 2000
Attending: Shawn White, Gabe, Simone, & John Chicoine
Miles: 18.6-miles Time: Time: 12 hours of hike time
AMC huts, / shelters / camping site:
Weather: Day 1: 9/9. Partly sunny. 40'ish at night.
Day 2: 9/10. Mostly Sunny, 75'ish both days, Dry air!
Peak Number 37 of the quest. What a delightful trip this was. The trailhead starts at the Lincoln Brook Ranger Station just a few miles out of Lincoln center on the Kancamagus highway. Once over the first suspension bridge at the visitor's center the trail is a very heavily traveled abandoned railroad-bed that climbs at a steady 3 degree incline for 3 miles. At the end of this section (once you cross the next suspension bridge), the serious hiking trails leading into the Pemigewasset Wilderness truly begin. One notable feature at this point are the Franconia Brook Falls just down a side spur, 0.3 miles, before you cross the suspension bridge. (We can vouch that a quick dip in these cool pools of running refreshment can erase a entire weekend's worth of trail stress and make you born-again. It's just like how it feels in the spiritual sense, only in the physical.)
The rest of the 5 mi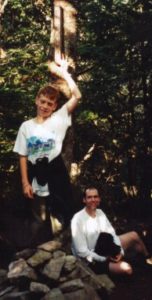 les out to the base of the Owl's Head Slide is another amazing foot path that manages to maintain the same steady 3 degree incline as the first 3 miles. This long stretch of trail through spectacular hardwood forests is broken up into small sections by lots of river crossings that help you mark your progress. There are several campsites located along the riverside within the last ¼ mile before the slide. None of these sites meet the 200 ft. limit from the water, but we were happy to have one so close to our destination. The Slide is a steep and dangerous rock scree scramble that extends over 60 percent of the total elevation of this climb. Footing is difficult, falling debris is inevitable and the pitch is challenging. (One comforting aspect of the slide is that it's seldom over 20ft wide so it doesn't feel as dangerous as it might if the slide were a wide open area.).
Once past the slide, the trail continues steeply for another several hundred yards through the forest over lots of blow-downs. It then levels off and continues for a few more hundred yards to the true wooded summit.
Gabe and Shawn at the summit
Once you have successfully bagged your peak and hiked down the slide, the rest of the trip seems long, but all down hill. You can simply zone out and put one foot in front of the other, mile after mile.
The weather for our trip was absolutely perfect. Just enough clouds to provide the necessary relief from the sun. The temps never reached over the seventies and there was this wonderful dry breeze that would gently blow through the hardwood forest now and then. The five or six river crossings were more than safe at summer water levels and hiking an 8 mile trail that follows water 90% of the way is such a blessing not to have to carry more than 1 liter of water at any time. Speaking of all this water, I suspect it would be worth checking recent rain falls before planning this trip.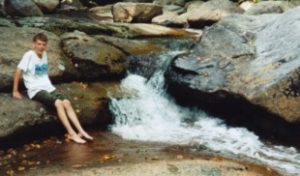 Lots of nice river spots like this.
Our site was just a few hundred feet from the base of the slide and just 50 feet from the Franconia Brook. We got to the site just as we planned at 2:00, after 4 hours of backpacking. We set up our site and after a quick lunch we headed up the slide at 3:00. The slide was a tough hike but afforded great views of the Franconia range. This was our first hike of the year that we actually had any views! I could hardly keep up with the rest of the crew. An old groin pull had started to act up and I happened to piss off a yellow-jacket half way up the slide. He figured a sting to the center of my right calf would be justice enough. Hiking down the slide we met up with a few of his friends, but none of us got stung. We got back to the camp just a bit after 6:00.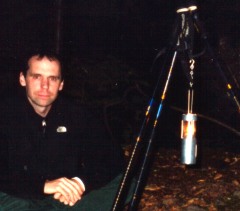 This was a "special occasion" trip. We wanted to celebrate Shawn's new full time high school math teaching position in the Townsend school system. We packed in 4 Hostess cup cakes in a Tupperware container, and lit candles on them for a surprise celebration. After the usual Knorr/Ramen noodle soup dinner we set up a hiking pole tripod and hung a camper's candle to give the campsite a warm glow. We turned in at about 8:30.
The morning after a quick breakfast of Poptarts, oatmeal and tea, we hit the trail at 8AM hoping to be back at the car by 12:00. We saw 14 people hiking to Owl's Head on Lincoln Brook trail by 10AM on 9/10. At the suspension bridge just before starting our long slog down the 3-mile long railroad bed, we stopped for some water and snacks. We were all basking in the good feelings about this hike and not ready to see it end just yet, when we saw a large family group that hiked all this way and head for Franconia Falls. Suddenly it occurred to us that maybe there might be something worth seeing out there; even if people with walkmans, cell phones, beepers, Igloo coolers, and Nike's were going there. We all decided to extend the hike another .6 miles to see what Franconia Falls was like. Wa-hoo!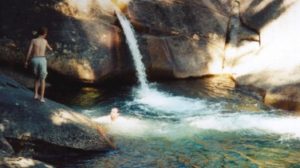 It was well worth the trip. Cold or not, nothing was going to stop any of us from a quick dip in the river. There are lots of spots to explore and get cooled off in. After drying in the sun for a few moments we packed up again and headed out. We saw at least another two dozen walkers/day hikers heading to the Franconia Falls area. We were glad to be going in the other direction. None of us really wanted the feeling to end, but all of us were glad to see the bridge at the Lincoln Brook Ranger station.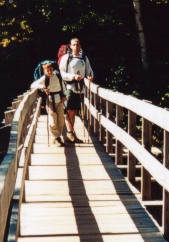 We stopped in Lincoln for a Pizza before we started the 3-hour drive back home.
Shawn, if you ever get on-line to read this; From Gabe, Simone, and me,,,, It just wouldn't have been the same experience without you. Thanks for coming out with us on this one. Hopefully we'll do a lot more hikes together.
Gary, if you're reading this,,, You would have loved it. If there is one lasting down side to this trip, it's that you couldn't be there to share the experience. That's from the heart of all of us.