Mt. Pasaconaway (4060)


Trail: Dicey's Mill Trail
Date: October 17 1999
Attending: Gabe, Simone, & John Chicoine
Miles: 4.6-miles to summit 9.2 Round tripTime: 3.75hrs up, 6.75hrs. Total
AMC huts, / shelters / camping site: Camp Rich
Weather: Sunny, mid 60's at base, 50'ish on summit,
"Everybody needs beauty as well as bread, places to play in and pray in, where nature may heal and give strength to body and soul." John Muir
…………………………………………….. These pictures don't have Passaconaway in them, but they are from the trailhead. And the rest of the hike is just as beautiful.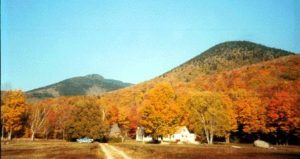 This is # 29. What a delightful trail. This just might become an annual fall foliage hike. From home it's 3hrs. to get to the trailhead off Ferncroft road. The parking lot was almost full, (must be a popular fall hike). The lot is shared by the Whitecliff, Wanalaucett and Passaconnaway trailheads. Of the 4.6 miles the first .6 is on an old farm road past beautiful fields and farms nestled in a flat land community surrounded by mountains. At one point we hike on private property that is gated off, (the gate is to stop cars, not hikers), through a large ten acre lawn, and right past the front porch of a beautiful private home. The next 2 miles are a pleasant uphill meander at a constant 5-degree grade. There is an easy river crossings that could pose a possible problem at high water time. The rest of the hike is never any more than a moderate hike with a short 100ft. rock scramble just before the wooded summit.
Every time we came to any steep sections there were always steps at any place that exceeded a 25-degree incline. The woods along the trail near the summit are interesting; there are lots of open woods, even lots of possible tent sites. There is a large lookout about 30 feet from the summit that looks directly over the Pemigewasset wilderness towards Garfield. There are no views to be had from the summit. Camp Rich has a shelter that is totally falling down and a bathroom that is falling apart. The floorboards of the shelter are a mess and no one could ever get a good nights sleep in there. There is a large fire pit at the shelter but you'll need a fire permit. There is water within 15 minutes of the summit.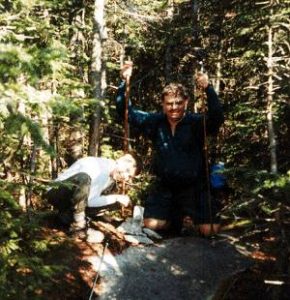 (Important note! Bring stones from Camp Rich area to the summit to add to the 5 stone, 8″ tall cairn that marks the summit.)
We met a couple that we had a fun time guessing their situation. We saw two elderly couples coming off the summit together, in their 60's, and we saw another couple in their 70's at the summit. The only black mark to this entire day was my left knee. The same problem I encountered towards the end of the Carter range backpacking trip two weeks ago, manifested itself within ten minutes of our descent. I couldn't believe it. Within 10 more minutes I needed some aspirin, and within another ten minutes I stopped to wrap the knee with an ace bandage. Thank God this trail is as easy and often times flat as it is or I would have been in serious trouble. Even the slightest descent irritated my knee. I have got to get on top of this one. On the way home we stopped at a guitar store called Vintage Fret in Ashland NH . That was an awesome store with every imaginable stringed instrument, and even some unimaginable.