"On the path that leads to Nowhere I have sometimes found my Soul." Corinne Roosevelt
Mt. Whiteface (4310)
Trail: Blueberry ledge trail, & Blueberry trail cutoff.
Date: Sep. 1'st 1999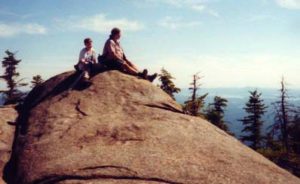 Attending: Gabe, Simone, & John Chicoine
Miles:8.5 Round tripTime: 4hrs up, 7.5hrs. total
AMC huts, / shelters / camping site: Mizpah
Weather: Sunny hot, 80 – 85
A 3 hour long car ride to Rt. 113a, by the Squam lakes area. Whiteface towers over a town-ship called Whiteface but it's not listed on the map. (Like Otter River). There are only a dozen or so visible houses that make up the town but there seem to be hundreds of homes hidden in the woods. The parking lot for the trail-head is next to a nice field and an old hidden cemetery that looks like it's just part of the horse farm. This was one of the first hikes ever that we didn't see anyone on the trail. The cutoff trail follows a brook for ½ a mile then ascends more steeply than Blueberry ledge trail, (we found this out on the way down). But either trail is slightly more than a gentle walk in the woods. After two miles the trail is moderate to steep for another mile. The last section of the trail to the summit is quite steep scrambling up ledges with some hand over hand sections. There are only a few sections with views but they are very nice. We ate just 1000 ft. from the open ledge south summit where two trails intersect. We needed the rest.
The south summit is beautiful facing the lakes region with views all the way to Concord NH. The true summit is a spot on the trail 3/10'th of a mile on the trail to MT. Passaconaway. There is a campsite / hut that is Whiteface's claim to fame. The hut is the ugliest hut in the Whites. We took the Blueberry Ledge trail down to the parking lot. From the Intersection of the cutoff and the trail, it's two miles but it is so easy that it only took 40 minutes to get to the bridge at the start of the trail that we washed our feet in. I was really disappointed that the trail didn't connect us up higher to the river (no houses) where we all really needed to fully immerse just to cool down. But we washed up under the bridge in a not so nice part of the brook surrounded by the front yards of several nice old homes. This would be a good approach to Mt. Passaconaway. But I doubt we'll do it on so hot a day that we'd really consider full immersion.