Matthew 6:26 – Look at the birds of the air; they do not sow or reap or store away in barns, and yet your heavenly Father feeds them. Are you not much more valuable than they?…. (God sends Simone and I to the tops of 4K's just to feed the Grey Jay's for Him.)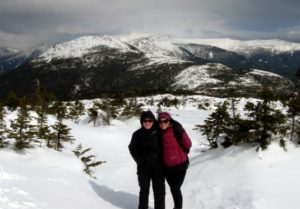 Mt. Pierce (4310)
Trail: Crawford Path
Date: March 8'th 2014
Attending: Carrie, Simone, & John Chicoine
Miles: 6-mile Round trip Time: 2hrs up, 4hrs. total
AMC huts, / shelters / camping site:
Weather: Mid 20's at base, 10'ish on summit, 20-40Mph. wind, bright and sunny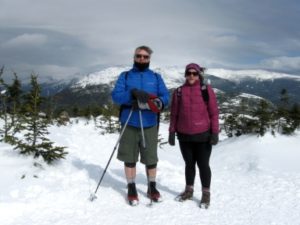 Our old standard winter hike never fails to delight and Mt. Pierce did it again; In Spades! What a wonderful day on this spectacular Southern Presidential summit. I know way to well to make light of any 4K hike and I don't recommend anyone else does either; all that said, this is without a doubt the most pleasant stress free 4K hike in the whites and my top pick as a first winter hike. But! The summit is always icy and I would never hike it without traction devices.
Yea Carrie! (the one with the E-mail address "I-Want-warm-weather") On your first winter 4K! We never thought we'd ever see you on a 4K, let alone a winter 4K. We're really glad you did this one with us. Especially because we couldn't have bought a better day. Just the right temps for a real winter hike, perfect snow conditions for traction devices, and Grey Jay's!) If ever there was a great day to hook someone on fare weather winter mountain hiking.
We weren't the only ones with the idea to take advantage of the great day; There had to be at least 40 cars in the lot when we got there at 10:am. (W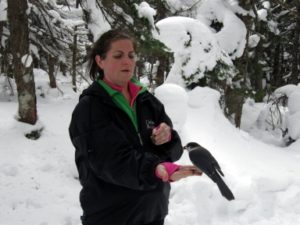 e took the last spot to squeeze a car into.) On the summit we ran into an AMC group of 17 people, (Mostly "OLD people", like they were all 60'ish.)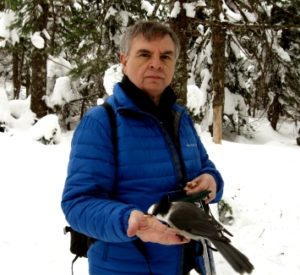 Speaking of old people,
there's one now!
To the left!
Matthew 6:26 – Look at the birds of the air; they do not sow or reap or store away in barns, and yet your heavenly Father feeds them. Are you not much more valuable than they?
Always remember… To wade about in the cold water of a swift running snow melt brook in the White Mountains is an experience worth taking advantage of at every opportunity that presents itself. It washes away more than the sweat.
Links to all the pierce hikes: