"We are not truly civilized if we concern ourselves only with the relation of man to man.
What is important is the relation of Man to all of Life."
Rachael Carson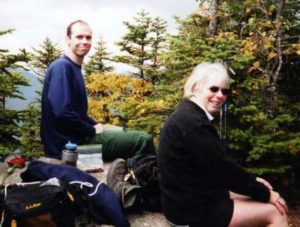 Mt. Tripyramid Middle (4110)
Mt. Tripyramid North (4140)

Trail: Sabbaday Brook Trail.
Date: Sunday 9/31/01
Attending: Shawn, Simone and John
Miles: 12 Time: 7 hours round trip
AMC huts, / shelters / camping site:
Weather: Partly Cloudy, 60's at the base, 40's on the summit.
Just the three of us, But wait! Not the usual three. "John, Simone, and Shawn? Where's Gabe? 40 mountains and Gabe has been with us on every one! We have never bagged a 4K without Gabe. We're out of sync. Gabe just had to fulfill his commitments with Royal Rangers. This means Simone and I will have to bag these peaks again to sync Gabe back up. By-The-By, these were #'s 40 and 41. Sabbaday Brook Trail is a great way to bag these peaks.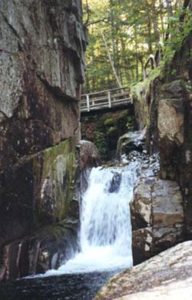 Although there were lots of river crossings and the trail could definitely be impassable in high water conditions. Other than the river crossings, (which got me calf deep with both feet on the second to the last crossing back to the car.) We rate this trail 90% easy to moderate. The other 10% is steep but not unreasonable except for about 50ft. of slide that was a bit of hands and knees. I guess ¼mile of steep hiking to bag a 4K is not a bad deal. We backtracked over the Tripyramid trail to Middle and then North peak. The peaks themselves aren't anything spectacular, North peak is entirely wooded with only a limited view of Middle Peak off a spur next to the summit. Middle peak is wooded but less sparse than North Peak, so there are only some views over and through the treetops. I lifted Simone up a few inches so she could see Mt. Osceola. The Sabbaday Brook Trail is most definitely the "Road less traveled" we only saw 2 other people on this trail but was saw 12 other people on the Tripyramids Ridge trail hiking from the WaterVille Valley side. There were very few places to set up a camp site on the lower section of the trail but above the slide we saw several good sites; Not that I would have wanted to carry a pack up the steep section of this trail. There is plenty of water up to the last ½mile from the Tripyramids ridge trail. We managed to get back to the car by 4:00 and meandered back up the Kancamagus Highway taking pictures at roadside stops like tourists in foliage season. We Were!